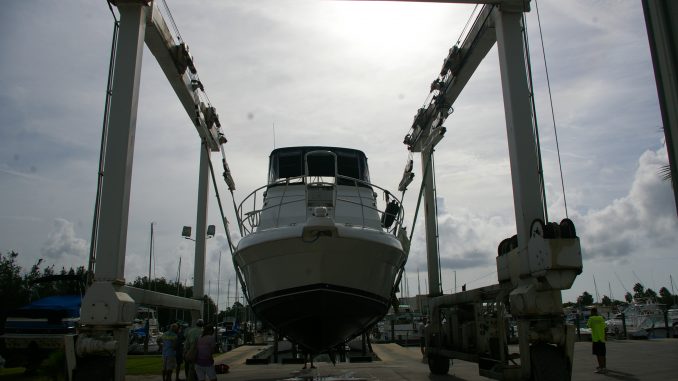 What a great first season with your new boat! You've cruised to wonderful destinations, met fabulous boating friends and managed to find deep water…most of the time. Or maybe you are going through the list of what needs attention from your purchase survey. Now you need to select a boatyard, but where do you start and what questions must be answered before you decide to haul out or not? Ask Captain Chris!    772-205-1859
Why Select A Boatyard?
If your hull has algae growing on it or you are curious about the status of your zincs on the running gear it may be easier to hire a diver to do that work in the water in your slip. But maybe a haul out is required to change props, paint your hull or inspect your stabilizers. Many boatyards also offer more than out-of-the-water service. Engines and air conditioners are two common items that need attention but often even these services can be done in your marina slip, without actually taking your boat to the boatyard.
Bigger jobs requiring a haul out include winter or summer storage, bottom painting, stabilizer service, engine or generator upgrades, running gear inspections and even fiberglass blister repairs. Some of these items are everyday boatyard services while others may require more technical experience by factory trained technicians.
(NOTE: If you are overwhelmed as you read, thinking I don't know all that needs to be done- how can I learn? Here's a start: Introduction to Boat Systems. But press on…we can help you figure it out.)
Full Service or DIY
Now that you have decided to take your boat to a yard for haul out, you must consider whether to select a full service yard or a DIY (Do It Yourself) yard. Full service implies just that: take your boat and they will do the rest. A DIY yard will haul your boat then allow you to do the work yourself. You may wish to bring in a contractor of your choice. Or, the yard may require use of their on-site service department. Some boatyards may charge an additional fee for using a non-approved contractor. And, the contractor must also have the proper insurance.
You have endless resources for finding a yard and the internet is a great asset. But don't forget to ask around at your marina. Learning about good or bad experiences from fellow boaters is priceless!
So, how do you select a boatyard, the right boatyard for you?
Certifications, Associations and Communications
When you select a boatyard, look for participation in national associations which promote a high level of professionalism. The American Boat & Yacht Council (ABYC) develops safety standards for vessel construction, maintenance and repair procedures. ABYC encouraged direct-current battery wiring to change colors from red and black to red and yellow, Yellow being the new black. This standard reduces the confusion between a black 110 vac wire with a 12 vdc wire. You can see the importance of knowing which is which. The wrong answer may be….shocking.
American Boat Builders & Repairers Association (ABBRA) is another professional association for boatyards. This is a national network of marine service and repair companies dedicated to professional development, training, education and the sharing of knowledge in the search for solutions to common problems.
Progress Reports
Ask about progress reports and the name of your point person. Are you permitted direct contact with the yard project manager or service tech? You are not wasting their time because they are on your clock. If they don't like dealing directly with you then consider another yard. This is your boat and you must be informed.
If you are far away from your boat then consider hiring an independent project manager to represent you in the boat yard. This PM will check on your boat's progress and report back to you, often interpreting some of the boatyard lingo. Two-way communication is essential.
Provided Services- Indoor storage or Out?

Indoor storage is all about climate control. Northern indoor storage may be heated while southern indoor storage may be dehumidified in a hurricane proof certified building. Outdoor storage is more common but in the north you should consider shrink wrapping the boat, adding an entrance area for periodic visits. This "door" allows entry without damaging the plastic wrap but you still must winterize the systems.
Southern outdoor storage may include a ground strapping system to hold the boat in place during high wind storms and hurricanes. Shrink wrapping is not common in the south because of the humidity. You don't want to make your boat sweat inside of a big plastic bag which can cause mildew.
Paint or Props?
Bottom paint is properly known as anti-fouling paint but all paint is not created equal. Start by asking your boating neighbors what type of paint and brand they use and if they are satisfied with it…and why? The two basic types of anti-fouling paint are hard and soft/ablative. A deciding factor in your selection depends upon where your boat is docked and how you use the boat. This decision is a learning process and your boatyard can certainly be the expert resource for you.
Your underwater propulsion system is referred to as running gear. This includes struts that hold the propeller shaft, the cutlass bearing inside the strut, rudders, trim tabs, possibly line cutters and the zincs. Don't forget your bow and stern thrusters may also have zincs. When you haul your boat the yard staff will visually inspect the running gear, thru hull fittings, thrusters and condition of the anti-fouling paint before the pressure washing is started. Pod drive systems like the Volvo IPS or Cummins Zeus are new technology items and continue to evolve every month, week and day, so bringing in a factory trained technician for inspection is likely the best choice.

Outside Contractors and Warranty Work
Your boat yard may bring in an outside contractor who is an expert in a particular item. For instance, active fin stabilizers require zincs at the end of the shaft and the boat yard staff can easily do that. But the stabilizer shaft also has brand-specific waterproof seals. Leave this and other periodic maintenance items to the experts, often an outside contractor who specializes in that product.
Does the yard select outside contractors or do you and does their work schedule fit your time line? Are they insured to work in the yard and aboard your boat? Determine who is responsible for backing up the warranty on services provided – the subcontractor or the boatyard that supplied their services. Who you actually pay may be part of the warranty answer but discover that before you agree to the service.

After all the work is done, the boat is splashed and you start cruising only to notice something is not right. You call the boatyard, talk to the project manager or tech that worked directly on that part of your boat and they agree they need to take a look at it. But how do you get the tech and the boat together? You are now 200 miles away, enjoying your boat.  Do they come to the boat or do they ask a nearby boatyard to check the questionable item? Who pays for the travel? And if the problem is under warranty how and where do you go about getting it repaired under that warranty. Again, these are questions to be answered before you agree to the initial service.
Insurance Coverage- Yours, Mine or Ours?
Read the fine print in your insurance policy before arriving at your selected boatyard. Some boatyards require you to list the yard as additionally insured on your policy. Speak with your vessel's insurance company to get a better understanding of how you are covered. Some marine service companies also add line item fees for Longshoreman or Jones Act insurance charges while other boatyards have writing within the service agreement to hold the yard and workers harmless. Check, check and check again to be sure you are covered under someone's insurance!
Going into a boatyard is not like dropping your car off at the dealership. There are many different specialties, craftsmen and subcontractors involved in the various and complex systems aboard your boat. Before you select the right boatyard – get involved! Learn more about your boat and the service providers hired who will keep you cruising along!
Ask Captain Chris
We offer free YouTube videos posted daily, scheduled seminars to learn what to know before you go and training aboard. Ask Captain Chris to help you with your cruising adventure.
Consulting – Training Onboard or with Facetime– Seminars – Videos