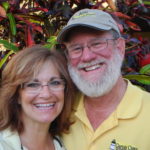 Ask Captain Chris is a valuable service provided by husband and wife cruising coaches – Captains Chris and Alyse Caldwell.
Even before buying your dream boat, Captain Chris will guide you each step of the way. As cruising coaches we can help you define the mission of your boat, preview your potential perfect boat and even attend your sea trial as an advisor.  Then after purchase our goal is to build your cruising confidence. We will help you transition by taking the mystery out of all onboard systems, docking and anchoring. You will become more a confident boater when you practice navigation and other essential cruising skills with us.
Our video series can supplement the actual hands-on teaching or provide a foundation prior to boarding your boat. Training Videos will enhance your confidence- at your own pace, with or without a boat.
Stay informed by signing up to receive our newsletter. Learn about upcoming boating events, recent training trips we've been on and discover our 2-day Seminars Introduction to Boat Systems and Cruising 101 FUNdamentals.
Ask Captain Chris also provides Cruiser Consulting Services for the novice boater in person, by phone or FaceTime and continues to build your cruising confidence online, in class or onboard your boat anywhere. What better way to start Living the Dream!
Contact Captains Chris and Alyse at 772-205-1859 or email chris@askcaptainchris.com for more information.