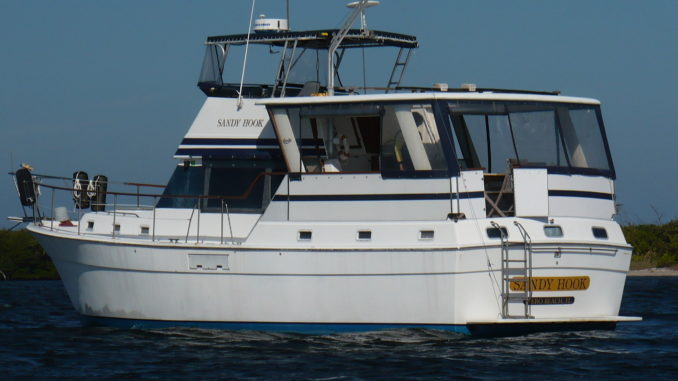 Learn What to Know Before You Go!
Dave & Nancy are looking for their next adventure. This world traveling couple considered adding cruising to their list of life's possibilities and we're about to show them the ropes…
Changing Weather Forecast and Navigation Challenges
Nothing about this trip is routine…from the 25 knot winds to the fog and plummeting temperatures. But then again, nothing about boating is routine. This novice couple are up to the task and their commitment to learn sure pays off! Not only are we able to teach basic navigation and boat handling but also explore when you should rely on RADAR and when it's time to tuck in for the day. Safety first…always.
Anchoring is an Option
Anchor skills are important to develop as the fog closed in quickly. We had planned for a marina on the first night out but we decided that traveling a longer distance was not the best safety choice with limited visibility. So we backtracked on our GPS recorded trail and got off the ICW, anchoring in 8-10 feet of water. Sheltered from the north winds by land leading to a bridge, we spent a comfortable night at anchor and checked off another new task for these novice boaters.
Unexpected Perks of Cruising
Soon the weather becomes more of what Florida visitors expect and we are treated to an incredible phenomenon…a total Lunar Eclipse on the same night as the Winter Solstice. Leave it to Mother Nature to give us the warmest, sunniest day on the the first day of Winter.
We  are pleased to come aboard YOUR boat anywhere for personal training with you and your mate. A training delivery is a terrific way to learn about your boat and the cruising lifestyle. Ask Captain Chris 772-205-1859 or join us at a seminar to learn what to know before you go cruising!