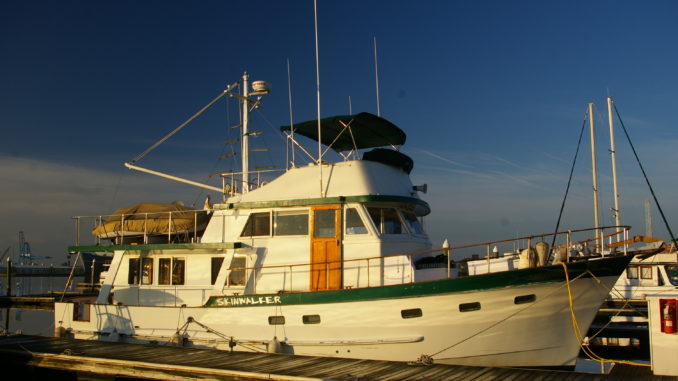 We had the pleasure of meeting Jim and Mimi at the Fall AGLCA rendezvous in Rogersville AL. Wanting to be loopers and cruise the Great Circle one day soon, this couple started doing their homework long before they purchased their 1979 Marine Trader.
Many cruisers start out researching this terrific adventure years before they set out, and Jim and Mimi were no different in this respect. Attending boat shows and club rendezvous gives them opportunities to discover different options and lets them know there is no cookie cutter approach to Living the Dream. The AGLCA membership loves to share their experiences and the spring and fall rendezvous allow members to offer a helping hand to those who haven't started the water part of this wonderful journey….and even offer tips to those who are already underway. Traditionally, 300 or so loopers and looper wannabees meet twice a year for fellowship, fun and factoids about this wonderful journey along the waterways of North America.
When these Canadian soon-to-be cruisers purchased their boat in Baltimore's Inner Harbor, they asked me to help them transition from their small outboard boat to a 49foot twin engine raised pilot house trawler. So, I flew up Saturday morning and arrived at the marina just before lunch, allowing us time to perform a crawl through to review the below deck systems, touring the engine room, lazerette, forward bilges and anchoring systems. This boat has been retrofitted with newer Ford Lehmans, a Northern Lights generator and had the bonus of having 5 newer aluminum fuel tanks instead of the original black iron version. This crawl-through gave us an opportunity to make a list of needed items such as spare impellers, oil and even some safety equipment. It's the just-in-case things that can make your cruising more pleasurable.
After a short primer on Navigation, I helped them plan their shakedown cruise to Magothy River just north of Annapolis, MD. Our cruise took us out past Fort McHenry into the Patapsco River. We had to steer around commercial traffic including some very large ships, using our RADAR as a welcomed supplemental tool.  Binoculars kept us focused on the nav aids directing our path toward our anchorage for the evening and help us avoid floating debris before it is too late. As we short cut the lighthouse we enter the river and see a NO FLOAT ZONE indicating that crab traps are not allowed.  We delight in this clear channel and ease between Gibbons and Dobbins Islands to anchor for the evening. All systems are working well, great cool spring weather and a bright moon. A beautiful evening to be at anchor and we wonder aloud why more people don't cruise?
Next morning the weather shifts and we have a bit of chop as the sun rises. We can see the commuters riding across the Bay Bridge heading into the city for work. Not us, we are worlds away. We spend the morning trip planning a few different legs of the loop including Baltimore to Norfolk for the AGLCA Rendezvous which we all will attend- Jim and Mimi by their very own boat and Alyse & I as presenters during the seminar session. This boat is headed on the Great Loop! Follow along on the photos below to see some of the Baltimore landmarks as you enter the Inner Harbor, home to the annual fall TrawlerFest Baltimore.