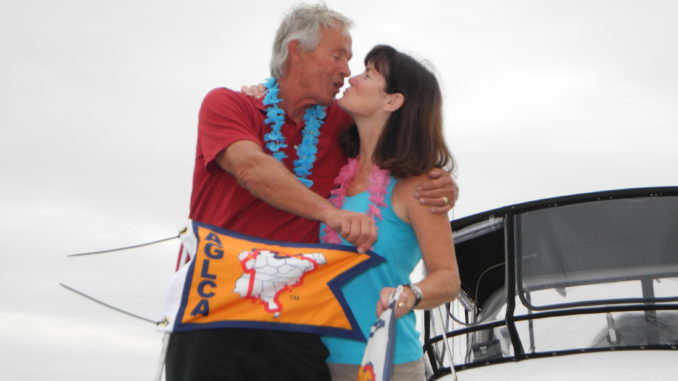 Cruising adventures on America's Great Loop
Want to learn more about joining the AGLCA – America's Great Loop Cruisers' Association? Here's how:
Call us (772-205-1859) about training with Captain Chris aboard your boat anywhere or email us to order one of our many training DVDs and we'll help you get planning off to the right start with a complimentary membership in AGCLA.
What IS the Great Loop?
The Great Loop or Great Circle is a route around the eastern portion of North America, all by water. The early settlers used boats and barges to transport supplies up and down the river systems and along the coast and now loopers are experiencing this in greater comfort.
Spring and Summer Cruising
Cruise up the East Coast to New York and through the Hudson River to the Erie Canal then on to the Great Lakes. The route is seasonal so you want to cruise the Great Lakes and the Canadian Georgian Bay in the summer months. Be south of Chicago by mid-September before the winter winds start.
The Fall Migration
Now in the river system you can cruise south to the Tennessee Tom Bigbee Waterway and into Mobile Bay and the Gulf of Mexico. Before the winter season is upon you – Florida here we come!
Winter Wonderland
Cruise the Florida Keys or cross the Okeechobee Waterway to the Atlantic Ocean and enjoy the Treasure Coast or cross from Palm Beach to the Bahamas. It's only 54 miles! To complete the Loop just head back to your starting point to "Cross Your Wake" and become a GOLD Looper.
Watch the bows of cruising boats for their AGLCA burgee, Americas Great Loop Cruisers Association and see the white, gold or platinum burgees to see how many times they have looped.
Learn to be a Looper!
There are many ways to learn about looping. Join the AGLCA. Come to a Rendezvous. Take in a video or two of part of the route. Come to a seminar Cruising 101 FUNdamentals where you can learn about the right boat, navigation, anchoring, trip planning and so much more.
Listen to the on demand AGLCA radio show on the web and scan through all the weekly topics. Here is a terrific discussion from someone in progress, someone who is still dreaming and a gold looper who attended the rendezvous. Nice set of questions from Kim Russo of AGLCA.
Want to learn more? Just Ask Captain Chris!