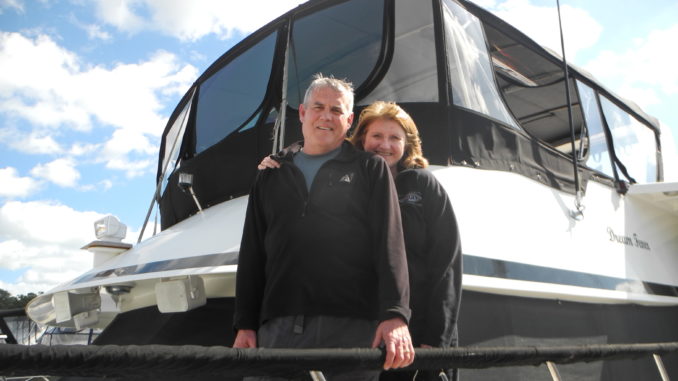 There's a saying that the third time is the charm. Well, we've have THREE charming training trips aboard this DeFever with THREE different owners. Captain Chris Yacht Services has apparently been around for a loooooooooong time!
The first owners we trained with quite a few years ago were loopers who loved their DeFever but they purchased the trawler with plans to sell it upon their completion of the loop. It seems this is the M.O. for many loopers: buy a boat to loop then sell it when you are done looping, usually in twelve months' time. The next owner had a few wonderful adventures playing along the Gulf Coast before he decided to sell. Now the new owners of this distinguished DeFever have looping in their not too distant future plans and they asked Captain Chris to help with their orientation. It felt like coming home when we stepped aboard DREAM FEVER. She's even had the same name through the years!
Because we were scheduled to present a seminar series at the Gulf Coast Boat Show in Gulfport MS, we were able to come aboard DREAM FEVER a few days prior to the boat show and get things started. Despite a rainy and windy forecast we got right to it…so much below deck to cover before we started the engines.
Once the fundamentals were addressed we poked our nose our of the slip and took her for a spin around the fairly protected ICW. Rain gear was the dress code of the day and none of us melted even though it's rumored that we women are made of sugar! The next two days were a whirlwind but comfort levels were increasing exponentially. Amazing teamwork was evident and big smiles were everywhere.
When you find your perfect boat don't forget to Ask Captain Chris to help you get started living the dream!