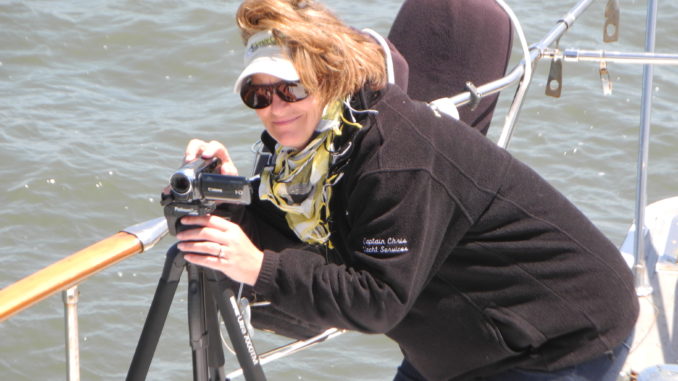 FREE videos
Yes, we offer FREE videos on YouTube. As we cruise around the waterways and boatyards we see interesting things to video, narrate and post on YouTube for others to see and learn. You should subscribe to our channel if you want access to over 1500 short real-world videos of boating topics.
If you are already a YouTuber then click here and enjoy our videos on the Ask Captain Chris channel. Skip past these instructions if you know how to use YouTube PLAYLISTS. If not, then stay tuned. It's easy.
How To Watch Our Playlists
Once you are on our YouTube channel (CLICK HERE), look under the ASK CAPTAIN CHRIS title. There are six different options to select:
HOME              VIDEOS            PLAYLIST         COMMUNITY            CHANNELS              ABOUT
When you click on PLAYLIST you will find at least 30 different boating topics. Each topic has a number of new videos for you to watch and learn. For instance, Navigation has 158 unique and quick videos to learn something about cruising the waterways of North America. Boat Safety has 117 short vignettes that include a few self inflating life jackets as well as a life raft demonstration or two.
Watching videos in a playlist assures that you stay on topic, something helpful when you are trying to absorb new information. It also prevents you from being bounced to some thriller but unrelated video of train wrecks or plane crashes. While these may be equally cool to watch, we let you stay focused on the topic at hand.
Some PLAYLISTS include:
Docking – Watch a Grand Banks dock with ease in just one of 197 Docking videos.
Locking – See how low you can go and how fast may you drop when you're in a lock ,one of 21 Locking videos.
Anchoring – Learn about how a swivel can help when you scan through 110 Anchoring videos.
Engines – Tour an engine room of a DeFever 53 or a 46 foot trawler with a Cummins Turbo in two of 148 in the Marine Engine playlist.
And a whole lot more including Navigation, Dinghies, Safety, Pets Aboard, Marine Surveys and more and more and more.
Note: These are free and unedited. Yes, we may have background noise, diesel engines, wind and even crew talking in the background that distracts you while you watch. But the point is, you have that distraction in real-world boating anyway!

We are professional training captains. Our YouTube videos are a bonus resulting from when we teach aboard. There's no script and no "take two" from a director behind the camera. While we do own and use special camera equipment that we pull out from time to time, many of our videos are taken while we are in the midst of training. So rather than make it super obvious that we are filming and making you nervous, we try to do it as unobtrusively as possible. Many times it works and you feel like you are right there. But….sometimes we have wind in the mic or…the camera wobbles or…we wished we had our own camera crew. What we do present we believe is worth sharing and we hope that you do too.
Longer Videos Available
And BTW, we do edit our 1 hour videos that you can purchase online both in DVD form or online streaming. Learn more about each of these topics right here.
Docking 1hr
Locking 1hr
Anchoring 1.5hr
Drawbridges 1hr
Perfect Boat for You 1hr
But wait! There's More!
And after you have watched our entire FREE YouTube library of videos there is still more to learn. Join us in our 2-day Garage Workshops in Vero Beach, FL.
Both these classes are great to prepare you to go shopping for a boat and start living the good life, Cruising America's Waterways. Don't worry if you've already found your perfect boat. These classes will help you build your cruising confidence too.
Sign up today
And when you start watching our daily FREE YouTube Channel you can Ask Captain Chris when you post a comment. We review these comments and answer you so you can continue to learn. So, don't miss the boat (couldn't resist). Sign up today to enjoy a daily short real-world cruising tip – docking, maintenance, anchoring, engines and everything else we see while we are out on the water as your cruising coaches.