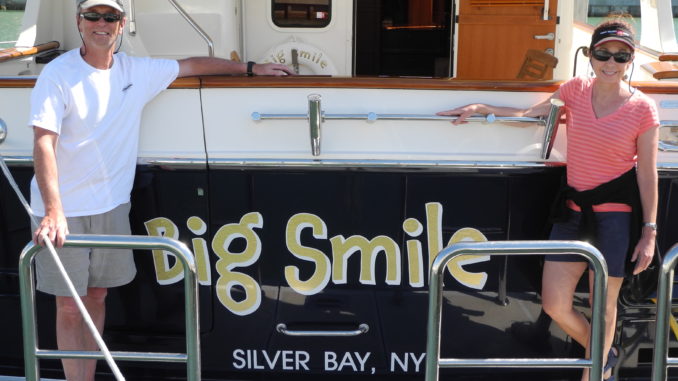 From Dreaming to Dreamboat!
Scott and Kathy purchased their dreamboat and asked us to help them transition from their sailing experiences on Long Island Sound to a larger vessel with many more systems aboard. We first met this delightful couple at Trawler Fest Fort Lauderdale when they purchased their boat and when they were ready to begin their adventure they called on Captain Chris Yacht Services to help Build Cruising Confidence As A Couple.
Because a larger more comfortable boat means more systems, we crawled through their 53 Selene reviewing everything from stem to stern- the below deck systems including the propulsion engine, generator with PTO to power the get- home auxiliary drive, hydraulic active fin stabilizers, air conditioning systems, and of course the AC and DC Electrical layout.
Navigation FUNdamentals
Next we reviewed the basics of navigation, rules of the road, whistle signals and of course, we took the boat out for a real life navigation cruise. First we headed out the marina on a secondary channel, then intersected into the primary channel of the ICW noting the navigation aids with Yellow Decals. Passing under a 65 foot fixed bridge we then turned to sea into the Fort Pierce Ship Channel so we could run the range markers. Lots to learn about in this area of the waterway including currents, tides, congested traffic, radio chatter, shoaling and traversing a bascule bridge required to open for our safe passage. In the late afternoon we return to the marina for docking practice with floating docks. At the end of a busy first day we plan for day two and discuss the expected new adventures.
Our second morning aboard we check fluids once again, open the log book and start up. After a successful cast off we headed to a nearby marina to fuel up and practice some touch and go docking on their fixed docks. During our fueling we experimented with the high speed diesel pump that has a flow rate of 45 gallons per minute (GPM).  To reduce the chance of fuel burping we ran the pump at slow speed which is about 25 GPM which is much faster than the other option of the slow pump maximum of 13 GPM. Scott and Kathy used their headsets to monitor fuel levels in the two large tanks with Scott in the engine room and Kathy operating the pump nozzle.
Docking & Anchor Practice
After fueling we cast off, made a u-turn in the current of Taylor Creek and headed to find some vacant slips for practice. Everyone gets an opportunity to increase their skills before we head back out to the ship channel. We can run the range a second time prior to anchoring for lunch. Uh-oh. Murphy arrived. You know the one who invented Murphy's Law? We had to experiment with both anchors before deciding the bottom conditions were too soft. Neither anchor held well. Optimistically we had a lot of practice switching from one anchor to the other, changing the windlass from the starboard gypsy to the port gypsy and using the anchor bridle.
Two days chock full of training and we are back at the marina where we get in a few more dockings before we end with planning a cruise to the Bahamas. Two months later and this cruising couple had an opportunity to use the secrets and shortcuts of the Abacos that we have used many times over the years. Be sure to click open each photo above for a tour of the two days aboard their Selene 53.
Ask Captain Chris
We can join you aboard your Dreamboat for Docking, Anchoring, Navigation, Basic DIY Maintenance and more training. Call 772-205-1859 or send us an email. Lots to learn and we can help. Just Ask Captain Chris.