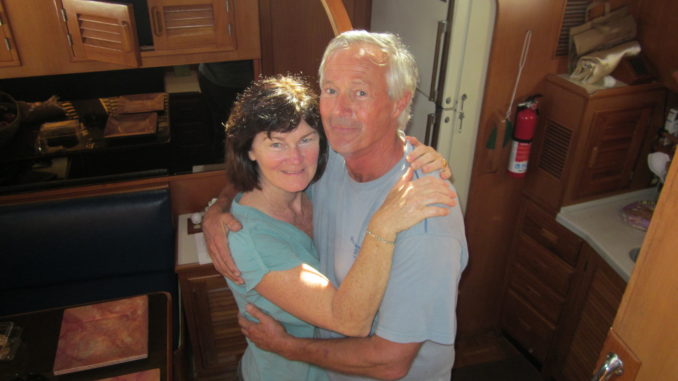 Does that sound right? How can a couple in Seattle do the LOOP when they live across the Alleghenies and the Rocky Mountains too.
The best way we can determine is to buy a boat already over somewhere on the east coast like Florida. Bob and Cathryn agree and purchased a 42 foot Jefferson Motor Cruiser in Stuart, FL near Mile Marker Zero on the Okeechobee Waterway. They are starting out on a busy part of the LOOP and would soon discover that Florida is a great place to be in January!
Timing is everything and we made the best of it with our training. They went to act of sale in the morning and then we could move the boat out of the Manatee Pocket to Fort Pierce, FL. Along the way we experienced low tide, shallow sand bars and had to learn navigation all over again. They explained when in the Pacific North West the term shallow water means less than 100 feet. Here in FL shallow water means slow down or you might ground the boat! Big difference.
Looping is their goal and they have selected the right boat to make their trip easier and more enjoyable. Walk around decks makes docking and locking easier and the sun deck aft cabin combination gives them more living space both above and below decks. Now we just have to discover where the switch is to turn on that thingamabob.
We scheduled a below deck systems review so they can learn everything about their new home so, just in case they hear something go BUMP in the night they'll know how to handle it. Docking and anchoring practice days will follow after they move aboard with their personal items.
We get wonderful periodic updates from Cathryn & Bob as they start living the dream aboard NEXT TO ME. Watch for their AGLCA Burgee and follow along with them through their blog.