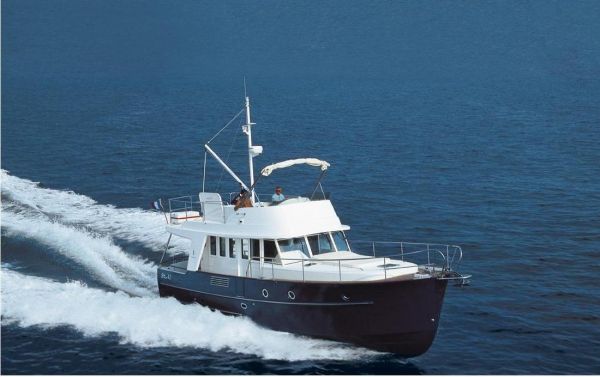 Vessel type/length – Beneteau Swift Trawler 42
Engine type – Twin Cummins 6 cylinder 380 HP
Cruising speed – 24 knots
Starting location – Charleston, SC
Destination – Stuart, FL
This is a brand new boat fresh out of the factory in Marion, SC. We board the boat in Charleston's City Marina with less than 1 hour on the engines.
We are quite familiar with the systems of the Swift Trawler as we've delivered many to their new owners. Even so, we treat it as if we've never been aboard and review all systems to prepare for an early morning departure. Before sunrise we leave with a slight tidal current and head for Fort Sumter and the Charleston Ship Channel. The ocean looks great for our southerly run so we press the autopilot button and settle in as the boat easily cruises along. Traveling down the coast we can see the Savannah Sea Buoy on the GPS Plotter. The Brunswick, GA downtown bridge is now in sight as we pull into Fernandina, FL for the evening. Easy in and easy out, sounds like an interstate gas station but that is exactly the way we use it. The town is lovely and scenic, offering a lot of shops and "mom & pop" restaurants but more important to us is the closeness to the ocean inlet.
CAUTION, The US Navy operates a submarine base up the St. Mary River so watch out for a Yellow Flare when in the ocean. Check your rules of the road to see what that is about.
Next morning we head back out to sea and point south to Fort Pierce Inlet. We pull into a local marina to pick up some accessories that were shipped ahead of us. We complete the installation the next morning and make the delivery to the new owner in Stuart, FL. We met the new owners at a local marina so they could board the boat for some training and to show us their private dock.
We spend 2 additional days working with the new owners teaching onboard systems, GPS Charting and autopilot usage. We travel around the river, "ICW Crossroads" and run out the St Lucie Inlet into the ocean to get the feel of the boat in all type of sea conditions. We round up the training with multiple docking maneuvers, anchoring and dinghy launching using the davit system.