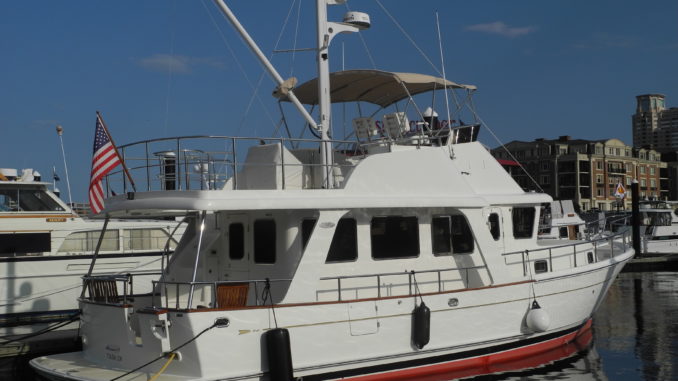 Trawler training takes on a new dimension as we head up the Chesapeake Bay and into the Patapsco River aboard this Selene 42 Europa.
When I first got the call about this new owner who needed training we planned to practice maneuvers around the Annapolis area where this fine trawler was docked. Boy! Do things change quickly when first you plan!
Brian picked me up at the Baltimore airport and as soon as we got in the car the training began. During our drive to the marina we discussed our teaching plan for the next few days, setting our outline and goals. Our intent was to review all the below deck systems including the Seakeeper, a different type of stabilizer that we'll cover in a bit.Then we would do a little docking practice before sunset.
During lunch we received a call from Brian's boat broker, checking on our progress, asking if we had any issues he could help with and offering something amazing for us to do that evening: Free tickets to Raven Football…in a suite no less! Brian wanted to be sure we would have enough time to finish lessons for the day then drive the car to the stadium in time for kick-off. Maybe, but we did something better.
We finished up the below deck system review then spent a little time on trip planning. Remember, boaters need to adjust schedules as needed for weather or breakdowns or football! So our trip planning involved navigating from the Magothy River to the Patapsco River and Baltimore's Inner Harbor.
All systems were go! so we untied lines and headed out into the Chesapeake for a short afternoon run up the bay. Brian got comfortable behind the helm and learned first-hand how to run the range markers indicating the entrance to Baltimore's Harbor. Navigating toward Fort McHenry we passed near the buoy decorated like the Star Spangled Banner. We were immersed in history while we cruised.
We had secured a reservation at a convenient Baltimore Inner Harbor marina right next to the Rusty Scupper. Nearing our night's destination we hailed the marina on the VHF radio and received our slip assignment. If you aren't sure where you are going you may consider first stopping at the fuel dock then walking over to your slip to assess and make your docking plan. Often the fuel dock is located on the outskirts of the marina and is easier to access.
In preparation for docking at their floating docks we hovered well outside of the marina to prepare lines and fenders. Then we discussed our docking strategy. Weather cooperated, the boat performed wonderfully and the marina staff were on the spot with their assistance so our first official docking was a success! A few more touch-n-goes and we are tucked in for the evening.
Just a 4 block easy walk to the game and Brian is beaming. He just navigated and maneuvered his new boat into a city harbor! What a great feeling! That's what cruising is all about. Adjusting your schedule to enjoy pleasure boating…a schedule that should be set in jello.
We took a few photos of the game including some young men who stood with hands over their hearts as the band played Francis Scott Key's familiar anthem. Our earlier cruise past Fort McHenry gave us an insiders view of those rockets red glare!
Overnight aboard this wonderful Selene allowed us to recharge ourselves and the batteries to power up all the boat's systems. So when morning rolled around again we are prepared to continue training with more docking, anchoring and even confirming that the stabilizers worked as advertised. The winds on the Chesapeake picked up on our way back to the Annapolis area. The Seakeeper surely proved its value. The Seakeeper is a different sort of stabilizing system using an anti-roll gyro. Amazing gyro technology allows most boats greater than 30 feet to benefit from the virtually instantaneous roll prevention. Yes, you must have generator power to the Seakeeper but it has no outside appendages as it produces a powerful gyroscopic torque to port and starboard that counteracts the boat roll. Very kewl.
Back in home port on the Magothy River we had a bit more practice on fixed docks. There is enough of a difference between fixed and floating docks that you will want to become comfortable with both. Fender placement is unique to each so you may consider you and your mates ability to tie knots. Another option is the use of fender hangers for easy on/off and relocation of those fenders when your dock assignment isn't exactly what the marina first told you. And with fixed docks you may be able to lay against a wood piling while you reassess how the boat is responding to winds and current. Notice I didn't say SLAM against the piling. In many cases, pilings are your friend!
When our time together was done, Brian learned all what we planned and more. He learned the value of adjusting your schedule to keep the pleasure in pleasure boating…just Ask Captain Chris!