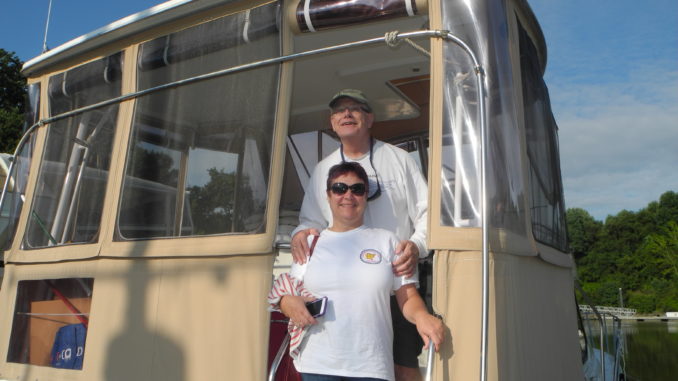 New owner training begins in Bear Delaware on the Chesapeake and Delaware Canal with Captains Chris & Alyse. Tag along and imagine you are in the helm seat ready to start your great adventure!
Gil and Debra just purchased a twin engine Bayliner 4087 to start the Loop. We were invited to help this couple, plus their grandson, transition into the cruising mode by teaching vessel systems, both paper and electronic navigation, anchoring and of course docking. Every crew member has an important role to play to assure smooth sailing.
Before we leave the dock we like to review all the safety items aboard your boat and make certain that you know how to use them. We started by exploring the vessel systems including the windlass and anchor gear. It is essential to know that the bitter end of your anchor rode is attached to the boat too. Testing this equipment at the dock has prevented us from many inconvenient situations while training. Best to discover equipment problems before you need them, right?
As we continue testing and explaining systems we cover the air conditioning compressors, battery chargers and even the fuel distribution manifold. Of course we also detail the engine functions including the generator and the role the rudders play when close quarter maneuvering. Understanding what's below the deck will help when working above deck.
The crispy fall weather was great as we helped this family make a punch list before they started down the Chesapeake. The boat ran well after we replaced some batteries (see article about this part of our trip) and we were able to help with a few other maintenance items while we were there for training. Often a new owner of a used boat has maintenance items to address before setting off to cruise but even a brand new boat should be sea trialed carefully.
Gil and Debra have been dreaming about looping and looking for their perfect boat for quite a while. Researching and attending seminars has helped their dream become a reality. Now their plan to cruise south to Norfolk and eventually Florida for the winter was taking shape.
Watch for their Great Loop burgee as they traverse the ICW and head north in the Spring to start the LOOP.