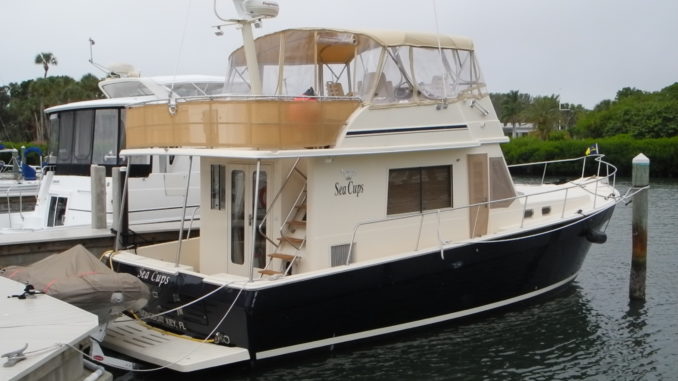 Wow! There are so many options to Ask Captain Chris and learn about your perfect boat. Your cruising coach & boat consultant, Ask Captain Chris online, by phone or video chat and of course, in person. At the end of this article, we've included some key photos from boats recently viewed. Lots to make you go hmmmmmm. Take a moment to study these photos and see a few examples of what to know before you go. Give us a call and see how we can help you in this wonderful boating journey. 772-205-1859

Online Review
Still dreaming of cruising off into the sunset but don't know where to start? There are so many boats for sale and enough different postings to wonder didn't I just look at that boat on another site? Well, Captain Chris can help refine your online search. We can suggest other boat designs you may not be aware of that may also meet your needs. Some items to explore include budget concerns, steps not ladders, reasonable stand up engine room, speed vs leisure cruising, pets, dinghy stowage, handling ease for helmsman and deckhand, docking, anchoring and locking. We can help get you pointed in the right direction for your search.
Just send a link to any boats you discover and Captain Chris can study it and return a written summary for your review…even before you go see the boat in person. Here's a comment from a client looking for their perfect boat.
Video Chat
Recently we met by FaceTime with a new owner who attended one of our 2-day seminars prior to boat purchase. The training delivery got this couple comfortable with docking and close quarter maneuvering and gave them the basics of daily fluid checks but now they are ready to learn more. Rather than fly/drive a long distance to their boat, we arranged a convenient time to video chat while in the below deck spaces. The new owner stepped down into the lazarette and with smart phone (or tablet) in hand we started reviewing the below deck equipment together. Our first virtual meeting was 2 hours and included electrical panel review, bilge pumps, auto pilot and rudder post. Two hours and we didn't even get into the engine room yet.
Time to break for lunch and to process what was discussed. Some of our clients use a label maker to help identify equipment that is essential to learn and understand.
A few hours later we resumed the video chat with new energy and more questions to answer. Focusing this time on engine equipment, we reviewed fuel tanks, fuel filters, oil filters and even oil change techniques. The engine cooling system is terrific to trace when you are in your own engine space. Don't forget the kneeling pads for those awkward to reach spaces.
Having spent some time living aboard prior to the video chat, this couple was uncomfortable with the extreme temperature from the hot water faucet. So we reviewed how to turn off the engine coolant bypass hose that brought the domestic water up to over 170F. Safety is important and includes creature comforts as well as boat specific items.
In Person
Is this your first boat? Captain Chris has helped many first timers become confident cruisers with the right coaching and a bit of practice. But even before you buy your boat, Captain Chris can come aboard with you when you are first starting out in your search for the perfect boat. Consider that you may not yet know what you don't know. Having an experienced coach along brings out both the good and the questionable for discussion and consideration.
If you already own your boat and you want to learn more please invite Captain Chris aboard for hands-on training. In the engine room, exploring systems and fine tuning your close quarter maneuvering skills, Captain Chris will start you from scratch or build on your existing knowledge.
What Do We Discover?
Aboard a clean and seemingly well cared for boat and we pop into the engine room. What is the BIG BLACK SPOT? That is an engine exhaust leak. See the black carbon soot leaking out between the turbo and exhaust flange? Look at the bolts and the major clips holding everything together. This could simply be a gasket leak or a major problem with a metal flange crack. And if it is just the gasket this is no ordinary gasket.
Next step is to hire a diesel mechanic to remove the exhaust elbow from the turbo charger and inspect the flanges and gasket. Let the mechanic tell you what exactly is wrong and the proper repair required. This is not just a mess but also a poisonous CO Carbon Monoxide exhaust leak under the boat's saloon cabin deck.
And here are a few more items that you can see in the photos below but maybe didn't know exactly what you were looking for:
Rudder posts are rarely ever inspected and may have a slow leak or drool of gooey water into the bilge. If the packing flange is adjusted to the bottom then it is time for new packing. Plan on this for the next haulout.
Spare filters should NEVER be stowed in a bucket. Not IF but WHEN you have a water leak the bucket will collect the water and ruin your filters. Better to stow them in a basket or cardboard box to prevent water damage.
Belts. We call them fan belts but they actually turn the water pump and alternator. Do you have a spare? And more important do you check them for proper adjustment and general health? Look at this belt that is missing CHUNKS of rubber. How much longer do you think it will last?
Ask Captain Chris – Boat Consultant
Ask Captain Chris Online, Video Chat or In Person. Ask an Experienced Boat Consultant to preview the boat before you proceed to the Survey and Sea Trial. We can help you preview the boat online or in person. Check our Ship Store for a Survey Primer here, Be Prepared:  https://www.captainchrisshipstore.com/collections/good-stuff/products/what-to-expect-of-a-marine-survey
And don't forget about spare parts. We have a starter list available here: https://www.captainchrisshipstore.com/collections/good-stuff/products/spare-parts-list
See what you can learn from these photos: