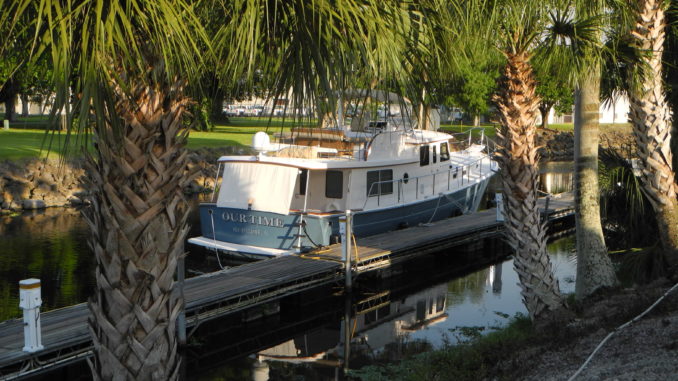 FaceBook Live
Join us this Friday May 15, 2020 at 10:30am eastern time for a Virtual Tour of a Krogen Express 52 docked in Harbour Isles Marina in Fort Pierce Florida.
Our friends at Krogen Express Yachts  have invited us aboard their gorgeous 52 foot semi-planing hull. So tag along with us as we tour this amazing cruising boat. This will be broadcasting on Facebook Live on the Krogen Express FB page.
You'll be able to find their Krogen Express 24/7 Boat Show at http://www.krogenexpress.com/boat-show/.   We very much look forward to seeing you aboard.
What's a Krogen Express?
This beautiful boat is a great cruising design. The flybridge allows a spectacular view for docking and locking. The pilot house offers a roomy lower helm with a terrific view as well. Stepping out onto the deck you can walk entirely from bow to stern on the wide outside deck. Here is a quick view of a KE52 overtaking us on a training trip along the ICW.
And if you're interested in the Great Loop, this is a perfect loopable boat. Walk-in engine room and spacious staterooms make this a very comfortable cruiser. Fast or slow, you'll be impressed with the fuel economy too. Here's a Gold Looper seconds from crossing their wake.
It's Time to Go Boating!
Summer is upon us. Are you ready to go boating? Check out another article that can help get you started on your adventure. If you don't have your perfect boat yet then Ask Captain Chris 772-205-1859.