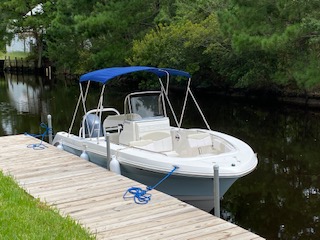 20 Ft. Robalo Center Console
Thanks to Captain Chris, we are happily on the water again!  It's been 15 years since we last had a little 16' runabout, and were looking to buy a boat that was a bit larger to safely navigate along the Mississippi Gulf Coast islands.  Captain Chris assessed what we wanted to do in the boat and made recommendations as to the length, hull type, and engine size based on our intended use.  From there, as we found boats of interest, he reviewed the pictures and information provided and talked with us about the pros and cons of each. 
When we identified "the one," a 20' Robalo Center Console, Captain Chris guided us through what questions we should ask the seller, as well as through the surveying process.  He reviewed the survey to ensure the boat was sound.  After purchase, Captain Chris made recommendations for the types of electronics we would need on the boat, as well as safety equipment.  With Captain Chris' guidance, from pre to post purchase, we are confident we will have many fun, safe days on the water!
How we can help you too
Ask Captain Chris when you don't know what you don't know…yet. We can help you make the best informed decision when looking for your next boat. 60 feet in a slip or 16 feet on a trailer, our experience can help you identify "the one" – the perfect boat for you. And if you need help learning to be at the helm, Ask Captain Chris to be your cruising coach. Whether it's a day trip in the gulf or a year on the Great Loop, we can build your confidence as a new boat owner.
If you'd like to start developing a knowledge base to find your perfect boat….Ask Captain Chris. Join us for a seminar, watch our training videos or give us a call 772-205-1859. Then let us know how your adventure proceeds aboard your own perfect boat!