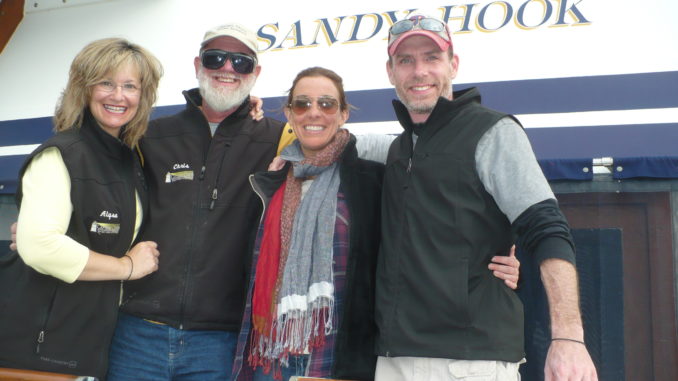 It's snowing in the entire Northeastern United States, the airports are CLOSED and Jo & Kim, our Trawler Training guests are stuck in Philadelphia PA. With a single minded mission, this young couple hop in their four wheel drive SUV for a road trip to Florida. The blizzard even forces the Eagles Football game to be rescheduled and played on this couples new arrival date.
(NOTE: We no longer charter our boat but are pleased to come aboard YOUR boat anywhere for personal training with you and your mate)
Uh-oh…while at our dock, TV reception does not include NBC. As soon as these Eagles fans board Sandy Hook we blast south- at 7 knots – to pick up reception on broadcast TV antenna. Whew! Crisis averted. We aim to please…
Back to boating- Because of the late afternoon start in the short days of winter, we prepare for a night cruise to our anchorage. We are rewarded with a fiery sunset and a clear chilly star-filled night but finding the next unlit marker is a constant challenge. Our guests are convinced that daylight travel is much preferred and we agree wholeheartedly. Hot cocoa warms our spirits while we are navigating from the flybridge. Aha! We now have great NBCTV reception so we set the anchor and dinner is served. Watching football while swinging on the hook. Does it get any better?
Next morning we introduce our more traditional Trawler Training- although "how do we get TV?" is often a question new boaters have for us. After breakfast we review navigation, cruise planning, all on board systems and radio procedures. We prepare to navigate through three bridges within 100 yards of each other, constantly adjusting our heading to compensate for currents. Communication with the bridge tender is easy when you are on the right VHF radio channel. As we pop out on the western side of the Roosevelt bridge we spy the mooring field and marina, chock full of cruising snow birds. Docking there to take on fuel provides another opportunity to maneuver in close quarters.
The northern cold fronts help us to enjoy a few refreshing evenings with nippy night air- great weather for sleeping without the generator. And fortunately our days are sunny and great for boating, each day a bit warmer than the last… Our guests actually donned shorts and sandals on their last day aboard with us! Yes, this is December and their friends and family at home have not yet dug out of all the snow.
A fairly calm night brings gentle morning winds and we breakfast one last time on our back deck, sipping coffee while we review the day ahead. Before we leave this anchorage we have a surprise visit from Sea Sea, another Gulfstar 44 Motor Cruiser. Our guests enjoy a dinghy ride over to Sea Sea for comparisons to Sandy Hook. Amazing how different sisterships can be with modifications from canvas to electronics! Jo and Kim get to learn another cruising couple's perspective while aboard Sea Sea as they generously answer many questions.
After this short rendezvous we hoist anchor and head for home. Our guests have plans for another rendezvous tonight- this time on land with old friends from their school days. Auld Lang Syne is just around the corner so we cruise back to our home port for our final docking. Happy New Year with hopes for Living the Dream aboard your own trawler in 2011!
Post Script: Back at the dock we give Sandy Hook a good bath to clean the salt spray and replace the linens then prepare ourselves for a GMT New Years Eve Party at the Vero Beach Power Squadron Clubhouse. Boaters aren't usually night owls and we are no exception, rising at 6am each morning. So we celebrate the New Year at 7 PM Florida time which is 2400 GMT – Greenwich Mean Time, the start of the time zone clock in England. It's Happy New Year somewhere…and bedtime is calling!