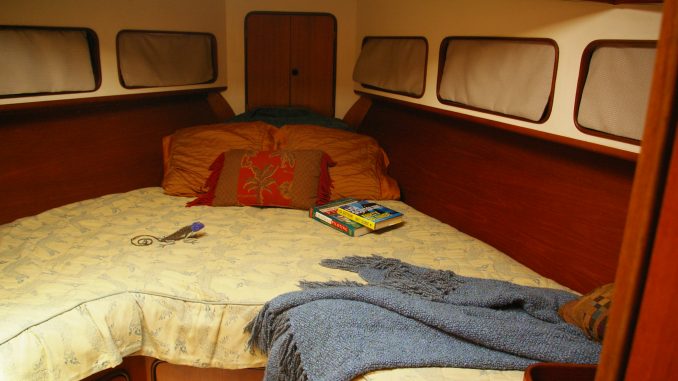 All boats certainly have a function but for many of them comfort isn't at the top of the list. Living aboard our boat for 19 years, comfort became essential. Here are a few tips from Alyse about jazzin' up your perfect boat.
The Perfect Boat!
Lucky me! The trawler my husband found for us was perfect: queen master, plenty of storage space, and a terrific aft deck for entertaining. I wasn't impressed with the stand-up engine room, walk around side decks or twin engines. But I learned to appreciate those features and more as I fell in love with our SANDY HOOK.  Because  Chris's definition of good furniture involves the endangered nauga-hide, it was up to me to make this functional boat a comfy place to be.
When our budget included two full time careers it was easy to whip out the credit card and buy what felt right: new furniture,  fitted sheets, custom window treatments.  We even had matching canvas on our dinghy's gas tank! A cruising kitty forced a change in our large budget mindset.  But I took Latin not Home Ec in High School,…Suzy Homemaker I am not!
Start Simple
Boaters have an incredible sense of community and a wonderful cruising buddy took me under her wing. Shelly would come over to our boat for a cup of coffee and spend the morning asking what we were going to work on next. We? She would discover what was driving me crazy and declare that irksome item as our next project.  Shelly uncovered my creativity, helping me see things with a new clarity.
We started small, buying a sewing machine that could manage the thickness of canvas for our larger projects. Eventually we even reupholstered the forward veeberth cushions which look amazing but that came later. First I had to earn my water wings.
Bed-in-a-bag on a boat?
This simple trick will jazz up your interior on a real small budget – with my even smaller skill set. Did you ever buy a bed-in-a-bag? Most stores offer sheets, pillow slips, comforter, shams and the bed skirt, all for a special price. On a normal bed, the bed skirt sits between your box spring and mattress, finishing the look of the bedding between the comforter and the floor. Wellllll, we don't have normal beds on a boat in case you didn't know. We don't even call them beds- it is a berth and berths do not have box springs. They have drawers beneath the mattress platform or some sort of storage. So what do you do with that durn bed skirt?
I can't begin to count the ways Shelly and I utilized the fabric from my queen and guest berths' bed skirt! A quick interior makeover begins with small decorator pillows. Toss those old and probably smelly boat pillows in the washing machine on hot hot hot! Bleach 'em too and don't worry about the colors running. Sun bake or dry by machine, cut some of the fabric from your bed skirt and poof! A designer pillow now perks up your bed, settee or pilot house. I earned my sewing badge on those first easy pillows. Decorative edging is optional if you are feeling it. Only you can decide how much is too much when jazzin' up your perfect boat.
Now you are on a roll
Next, we tackled the open cubby that stared me in the face above the galley sink. We have a down galley and that open cubby became like your household junk drawer. Things multiply when you aren't looking. Take a spring loaded curtain rod with small piece of the bed skirt and Ta-Da! The cubby is covered and peace reigns. Clutter is a deal breaker for many of us who spend time on our boats and yet clutter is inevitable on a boat….almost.
Let's go forward to the guest cabin veeberth. The boat builders designed incredible use of space for a guest cabin by inserting open shelving on both sides of the berth. Did I say open shelving? Even the neatest Felix Unger would have a hard time keeping these shelves from looking like clutter keepers. Bed skirt material converted into cubby curtains covers a multitude of sins. (say that three times fast!)
Cruising FUNdamentals
Remember this is pleasure boating! I'll bet some leftover fabric and a few straight stitches unleash your creative spirit. Look around your own boat and see what would make it feel more like a home. You are already an adventurous sort because you are a boater.  Now let's make the adventure feel comfy and pleasing to your eye without breaking your boat budget. Have fun jazzin' up your perfect boat.
And if you'd like to develop your cruising skills, join us for a 2-day Cruising 101 FUNdmentals seminar in Vero Beach FL. Learn Navigation, Trip planning, Galley Tips, Anchoring, Communication skills and more that will keep the FUN in your cruising adventure. Ask Captain Chris….or Alyse 😉