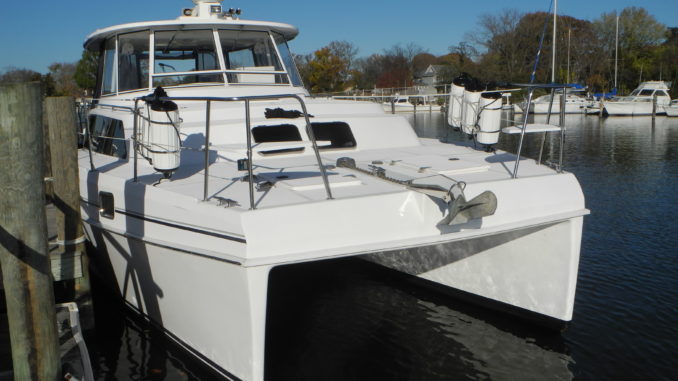 What do you do when you buy an Endeavor Power Cat and need to learn more about it? Ask Captain Chris. Denny had met us for the first time at the AGLCA rendezvous in Norfolk. He and his wife intended to retire to Florida, sell their home in Virginia and then buy a trawler.
It had been 20+ years since he last had a twin engine gas "go fast" boat to play with on weekends and he knew he would need some hands-on coaching to transition into the trawler life. And then all trawler plans changed course when he found the perfect boat…and it wasn't a trawler.
I flew to BWI and drove to Annapolis to work with Denny on his new Endeavor power cat.
Denny and I got together aboard his boat to review systems, engines, generator, electrical panel, navigation and GPS Chartplotter and RADAR before casting off for Solomons on the Patuxent River.
Weather delayed our scheduled casting off so we used this advantage wisely to review everything from paper chart navigation, whistle signals, ATONs, anchoring, using a snubber and on and on. A few days were filled with more information than Denny ever imagined and finally the weather window was predicted to clear for one day only before slamming shut for another week.
We started up and headed out into the Chesapeake chop and had a great ride south into the port bow seas. We were able to manage the boats stability by angling into the waves and adjusting our throttle to keep us from bouncing too much.
A nice feature of this boat was the twin engine controls with single lever control, for both throttle and shifter. When you watch the video you will see that you must pull out the lever for neutral throttle. Then when you pass neutral stage the lever will POP back into the gear selector mode.
As with all days at sea you can see the traditional Red Sky at Night Sailors Delight and this old adage didn't fail us.
If you have questions about the power cat and anything regarding our trip please Ask Captain Chris 772-205-1895 email or join us at one of our upcoming seminars.