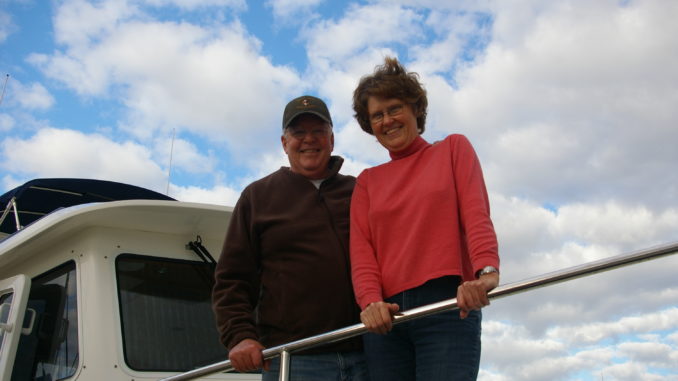 Our most recent Training Delivery finds us aboard a Kadey Krogen 44 Trawler. This terrific cruising boat had been docked in Brunswick, GA during the hurricane season as required by their insurance provider. Many companies insist you keep your vessel above the FL GA State line between June 1 and November 30.
I rented an SUV to drive to Jacksonville, FL airport to meet the owners who flew in from their home in the mid west. They arrive on schedule so we load up everybody's gear and continue the drive to the boat just an hour north.
After we park the car the fun starts. Unloading required many dock cart trips to the boat. In addition to our personal gear, we bring lots of just-in-case items and hope we never need them: immersion suits, spare GPS, night vision monocular, tools, spare parts, you get the idea. Hey! There's a familiar boat docked nearby. We worked with the owners of a Selene 48 last spring and saw them again in the Chesapeake. We cruisers really live in a small world, about 1  mile wide and 1500 miles long….After a quick hi and introductions all around, we rush to get organized and squeeze in a grocery run before it gets too late. Plan, plan, plan. Drop off the rental car and hurry to get some shut eye before our big bon voyage.
O'dark hundred and it's time to get the fuzzies off our teeth and start moving. Since we checked the engine room and other below deck areas the night before we are ready to start up and cast off. Last evening we reviewed Range Markers and how to use them as well as plan our first day's cruise. After passing under the bridge we turn southward and start looking for the YELLOW DECALS on the Nav Aids that denote them as ICW markers. Lining up on the range we steer through the swirling tidal current to get into the Jekyll Island Channel. Not a big deal when it's all said and done but it is exciting the first time out.
Our five days of cruising is wonderfully uneventful, no issues to deal with and the crisp fall weather is a delightful change. We operate from the wheelhouse in the cool mornings and evenings and from the flybridge in the mid-day sunshine. We practice docking in various marinas and get the hang of anchoring throughout our way south and then one morning it hits us: Warm Muggy Air! We are in south FL and loving it. Isn't this why we're called snowbirds?