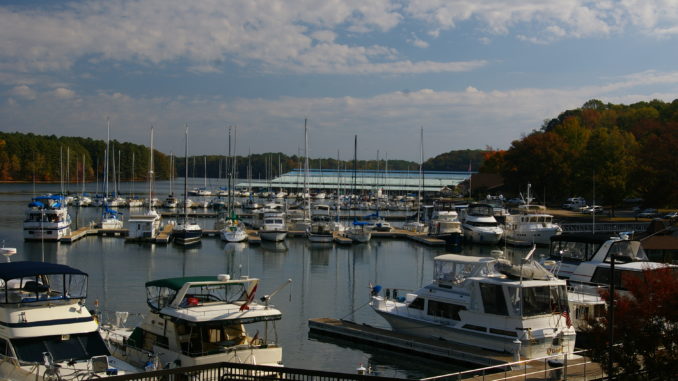 .
Fall is in full swing and our schedule is popping. Don't miss out on a winter trawler training trip aboard Sandy Hook. Check your calendar and email or call us today! 772-205-1859
Transport- Heard of Muddy Waters? Not the musician but the Kadey Krogen 48 North Sea…To see photos of this trawler offload coming from the Pacific North West to Florida by ship….. click here.
Training – This father and son have lots of fun…… See why.
Three days aboard Sandy Hook – This couple from VA met us at TrawlerFest Baltimore wanting to learn about the cruising lifestyle. Look at them living the dream…
Tennessee River to the Bahamas- We've just returned from Rogersville Alabama where almost 250 loopers or cruiser-wanna-bes meet, learn, party then move on down the Tennessee River on the Great Circle Route. Captain Chris Yacht Services took a virtual trip and presented BAHAMAS BOUND: DESTINATION ABACOS. Here are some photos of this great gathering. We are REALLY Bahamas Bound on a KK58 sometime next week. We will wait until the Gulf Stream lays down after Tomas passes.
Keepin' it working with Captain Chris
Easy as 1-2-3 It's a well charged battery!

– Don't be caught without your MOJO. Battery power makes us happy cruisers when everything is fully charged. Here are

a few pointers

for easy battery maintenance.

Circuit Breakers and Fuses

– Did you know that every electrical item has a dedicated fuse to protect that item? Just because you see the circuit breaker you may not see the fuse or even have a clue where it is located. Here are a few tricks to help you

follow the current path.

Diving on the Oil Rigs with the Associated Press

– Thanks to Chris's sister Cindy for these

terrific photos

of the artificial reefs in the Gulf of Mexico. Things are looking better.
Hurry Home Hurricane Season – No, we don't mean hurry to OUR home…just go away and don't come back! Hurricane Richard wallowed around in the Caribbean and then Sharey, now we watch Tomas growing into something powerful. Really? Hurricanes from Africa THIS time of year? And a "T" storm? We're in the home stretch of another busy tropical season so Contact us if we can help with your Hurricane preparation plans.
IT'S EASY TO LIVE THE DREAM WITH CAPTAIN CHRIS YACHT SERVICES!! December has only ONE open week still available for training charters. Imagine you and your favorite Mate living aboard while learning all about the cruising lifestyle. Think about a trip to Florida this winter and JOIN US aboard SANDY HOOK – our 44 foot training trawler.
Captains' Calendar
Check out our Facebook page for what's happening in the trawler world. Are you a fan of Captain Chris Yacht Services? Send us photos of YOU cruising on the waterways so we can share the dream.