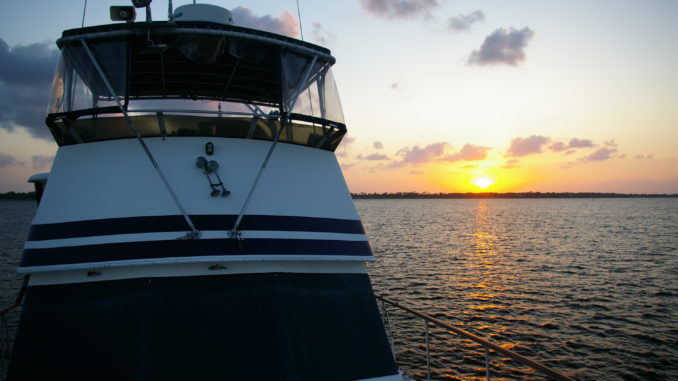 Cruising in Sunny Florida
.
Do you hear Santa's sleigh bells ringing? Maybe it's your low engine pressure alarm as you start your engines. If it is too c-c-cold to boat where you are then come on down to Sunny Florida. Don't miss out on a winter trawler training trip aboard SANDY HOOK. Check your calendar and email or call us today! 772-205-1859
Recent Training Trips –
Another Transport- This Trojan Sportfish type boat is on her way to Australia…thanks to Captain Chris Yacht Services. Take a sneak peek at how we do it.
Tis the Maintenance Season with Captain Chris –
Captains' Calendar
January 25-26, 2011 TrawlerFest University Building Cruising Confidence as a Couple. In this hands-on class Captains Alyse and Chris teach tricks and tips for couples who want to improve their teamwork skills while having fun aboard a beautiful trawler. This popular program sold out in the first week of registration so we added another class after the TrawlerFest weekend. Registration is easy but if you missed the boat…and the second boat too then call us for your own private cruise aboard SANDY HOOK. 772-205-1859

January 27-29, 2011 TrawlerFest- Fort Lauderdale – Imagine what you will be doing in late January. Shoveling Snow? Wearing parkas? How about coming to Florida and spending time with us, getting ready to be Bahamas Bound: Destination Abacos and learning about Changing Your Seawater Impeller/Diesel Fuel Filter…warm your frost bitten tootsies in the sunshine state. Register for these and other terrific topics at www.Trawlerfest.com.
February 17-20, 2011 Miami Boat Show
February 3, 2011 DISCOVERY has been rescheduled for the fourth time. Maybe this will be the real launch date?
April 1, 2011 LAST SPACE SHUTTLE Endeavor –Cape Canaveral FL. This is the final Space Shuttle Launch EVER and You can witness this historic event from the deck of Sandy Hook. Let us know if you want to be aboard with us.
Wintertime in Florida. Trawler training with us aboard our 44 foot SANDY HOOK and you'll Live the Dream while learning all about the cruising lifestyle. 772-205-1859 or email us now!
Check out our Facebook page for what's happening in the trawler world. Please let us know that you are a fan of Captain Chris!
IT'S EASY TO LIVE THE DREAM WITH CAPTAIN CHRIS YACHT SERVICES! December and January are booked solid with ONE week still open in February for training charters. Imagine you and your favorite Mate living aboard while learning all about the cruising lifestyle. Think about a trip to Florida this winter and JOIN US aboard SANDY HOOK – our 44 foot training trawler. Charters are available for spring and summer too. We have air conditioning!!! 772-205-1859