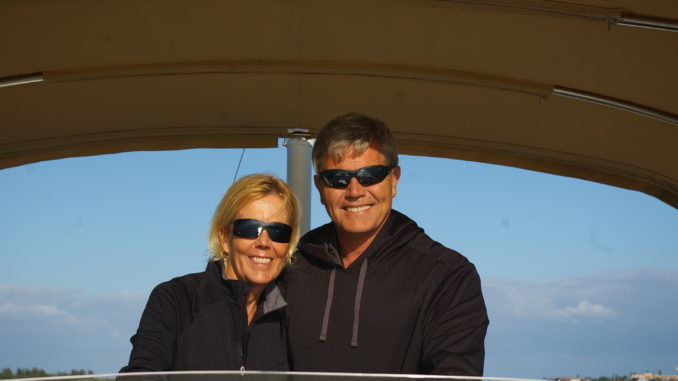 What's a JACKET? If you know anything about Georgia Tech you'll know that's a Yellow Jacket as in the school mascot. Steven and Charlotte have owned many boats in their life including a SeaRay cruiser before purchasing their most recent boat, a Krogen Express 52.
Thinking ahead they wanted a more LOOP friendly boat to travel around the eastern portion of the United States. They decided on the classic design of a Krogen Express 52. Many factors in the decision included walk around decks, bow thruster, roomy interior cabin space for guests, pilot house for bad weather and flybridge for good weather. The mast will clear the low bridges along the route and they will be back in FL next season around April after completing the LOOP with extended stops in the FL Keys and Bahamas.
We were asked to spend a day helping them become more comfortable with the larger boat and working together, Building Cruising Confidence as a Couple. We started by reviewing Range Markers, the ICW aids to navigation, anchoring procedures and of course DOCKING. We did not schedule the 15 to 20 knot winds but that's life. Taking advantage of the windy day we practiced using Mother Nature to our advantage by approaching the dock into the wind and using the wind to blow us where we wanted the boat to go. Fixed docks, floating docks and then anchoring outside of the Fort Pierce Ship Channel.
Our lunch at anchor was extended a little longer because we were treated with 3 tugs bringing in a dredge. With over 1,000 feet of discharge pipe dragging between the tugs we had to wait for the entire parade to get through the south bridge without TOUCHING the wooden fender system! WOW, talk about planning your cruise, they had to come into the inlet at slack tide so they could maneuver then make a 90 degree turn south to get through the bridge without hitting anything. I guess in perspective, our little 52 foot boat was no big deal to dock on this windy day.
If you're a JACKET or a Looper watch for their burgee as they cruise the US.