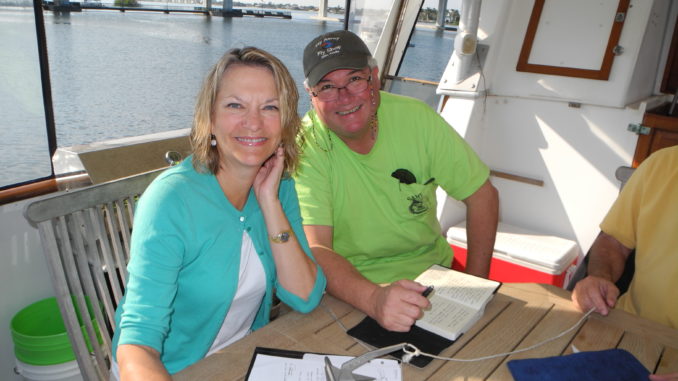 Bob and Jama planned to come aboard for trawler training in early September but mother nature and Hurrican Isaac had something else in mind. The eye of this enormous storm was many miles off the WEST coast of Florida yet we experienced 19 inches of rain and gusty winds on the Treasure Coast more than 200 miles EAST of the eye.
(NOTE: We no longer charter our boat but are pleased to come aboard YOUR boat anywhere for personal training with you and your mate) Although we could have done an amazing amount of dockside training and maybe even manage to sneak in a bit of on-the-water training in between squall lines, this couple opted to reschedule their trip for later in the year and BOY! what a difference in the weather!
When we all finally met aboard our 44 foot trawler SANDY HOOK, Jama and Bob were rewarded with real Florida sunshine, gentle winds and a training trip to remember.
After learning a realistic approach to cruising and an appreciation for living aboard a 44 foot vessel, this couple is now prepared to search for the boat of their dreams. We are pleased they chose Captain Chris Yacht Services to be a part of their adventure!
Call us at 772-205-1859 and let us know when you'd like to start Living the Dream of a cruiser too!