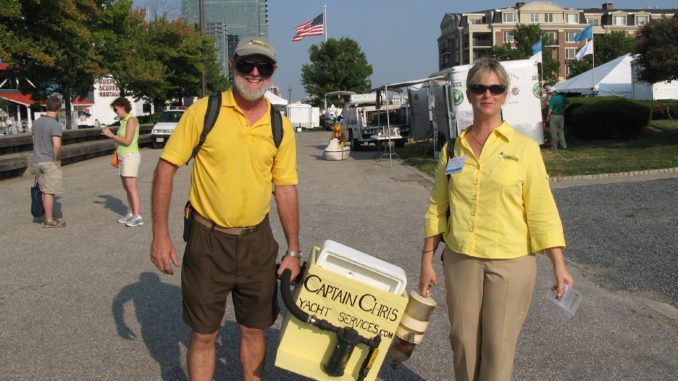 .
What a great fall season of boating! Our time in the Chesapeake area is amazing. So many Terrific trawlers on display at TrawlerFest Baltimore and the weather gives us one for the record books. beautiful blue skies and lazy indian summer breezes allow us two wonderful training days aboard a brand new Kadey Krogen 58.
We meet many new friends both in our Building Cruising Confidence As A Couple and in our 4 other presentations throughout the week. Here are more FUN PHOTOS from TrawlerFest University and our two-day hands on course. Maybe you'll be the star at the helm next time?
Keepin' it working with Captain Chris
Anchor capstan/windlass

– We are pleased to share a

photo journal

of our most recent owner maintenance how-to. Replacing our anchor capstan $ave$ on labor costs and gives us a new appreciation for weighing anchor.

Your Head – You know that all boating conversations always turn to this delicate subject. No, we don't mean the thing occupying space above your shoulders. Salt water flush toilets need the discharge line to be free of calcification. Check with your local boat store about which acid treatment is best for your boat. Ratios and type of acid are determined by your discharge hose and toilet base. Fresh water vacuum flush toilets don't usually have this problem. But duck bills/joker valves need to be serviced in the toilet base and vacuum generator of the fresh water head. Captain Chris has a 90 minute presentation HEADS UP! ready to share with your boat club or organization. Everything you always wanted to know about marine toilets and showers but were afraid to ask.

Galley Gourmet

– Looking for something easy and delicious for your next cruise? All of our recipes are easy to prepare in any size boat. Mom tests them out in her Pearson with a two burner stove and a convection/microwave oven. So imagine how much simpler with every additional inch of counter space. Did you know that

cruisin' calories

don't count?
Tropical Storms and Trawlers don't mix – Nicole came to Florida for a short visit and spread her joy up the entire east coast. Her threat required canvas removal and extra lines for the just-in-case scenario. As a Tropical Storm the predicted path was coming directly over the Treasure Coast of Florida. Then she changed her mind. Isn't that just like a woman? Fortunately for Florida, she took a more north easterly path and barely gave us rain…saving that for the northeastern United States where flooding was incredible. Otto was what we like to call a Fish storm and now we are keeping a close eye on Paula as she morphs into an H storm. We have another month or so before we can breathe easy so Contact us if we can help with your Hurricane preparation plans.
IT'S EASY TO LIVE THE DREAM WITH CAPTAIN CHRIS YACHT SERVICES!! We have just a few dates available before the calendar runs out on 2010. Imagine you and your favorite Mate living aboard while learning all about the cruising lifestyle. Think about a trip to Florida this winter and JOIN US aboard SANDY HOOK – our 44 foot training trawler.
Captains' Calendar
Check out our Facebook page for what's happening in the trawler world. Are you a friend of Captain Chris Yacht Services? Send us photos of YOU cruising on the waterways so we can share the dream.