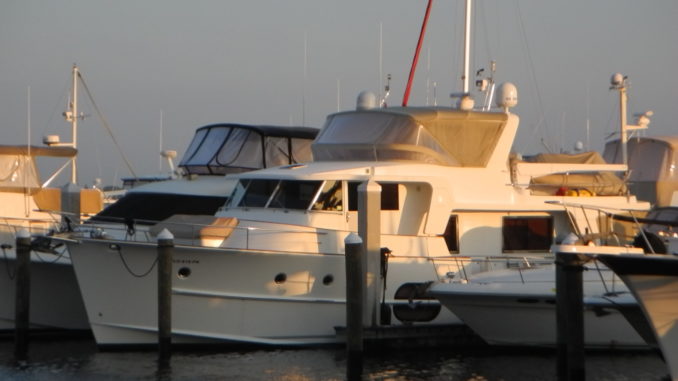 Do you have a Bucket list? We can help you make that dream come true. Attend a Looper Lifestyle seminar, catch the Great Loop fever and buy a boat. Be sure you Ask Captain Chris to help you become more comfortable handling your larger boat.
And when you Ask Captain Chris to come aboard and train, you may even get a better rate on your insurance!
In Aircraft language "time in type" is the phrase to note the owners experience level with the type and size of an aircraft. This is also same language for boat buyers. Check with your insurer to learn more about this phenomenon.
The soon-to-be loopers in question found their perfect boat, a Beneteau Swift Trawler 52 (ST52). This is a great boat to do the loop- roomy, easy to handle with bow thruster and two engines. She is fast when you need it and economical when you just want to cruise along at displacement speeds. And Captain Chris is quite familiar with this cruising yacht as he brought the first one in the United States off a ship from France. Then he trained many new owners to become more comfortable maneuvering and maintaining this terrific swift trawler.
We started with a below deck tour of vessel systems reviewing air conditioners, anchor bitter end and a variety of other essential systems before heading into the engine room and lazarette. This tour pointed out bilge pumps, auto pilot controllers and hydraulic steering rams.
Trip planning is also a big part of cruising so we worked out our daily cruises and cast off from Fort Myers FL. Running the channel to the Miserable Mile and back to anchor in the Okeechobee waterway for practice. Arm signals were used to lower and raise the anchor then we did it again swapping roles with the helm and anchor handler.
As evening approached the winds increased so we had to discuss heavy weather docking procedures. Glad to have twin engines and a bow thruster in these conditions. Entering Legacy Harbor we were careful to keep the boat to the upwind side of the fairway and cruised toward our slip. TIming our movements to use the wind to our advantage we reversed in between the piling and finger pier and eased into our slip. We were glad to have help from Gold Loopers in the marina who cheered us on.
A couple more days of practice and systems review had this crew up and ready to start their Loop.