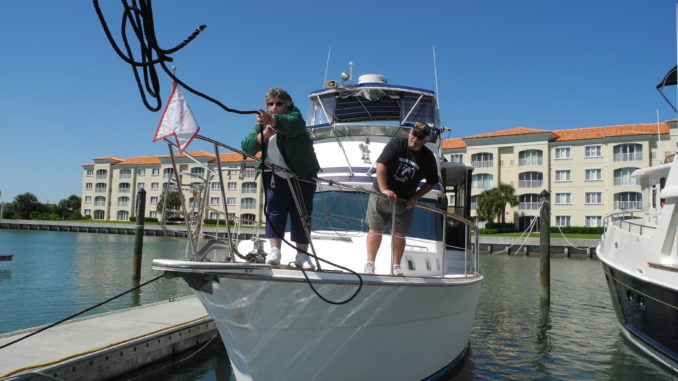 Docking – Fear not!
Most boaters have a few rational concerns that can easily be overcome with the right tools. Docking is right up there as the greatest fear and quite frankly, it is the easiest of all fears to meet head on. It just takes learning the right way first and then practicing, again and again. It's a little tough to break bad habits, right?
Featured in this post is our Top 5 Docking Videos for you to enjoy! And although we primarily focus on powerboats, the sailboat owner has to dock sometime. And most will use their engine to come into a slip.
Free YouTube Channel
Take a look at our Ask Captain Chris YouTube Channel and you will find a simple and free way to learn more about docking. Every day we post a short, unedited video of real-world cruising information. Sometimes it's just a two minute clip showing a beautiful boat underway,  an engine room tour or a look at what went right during a docking maneuver. In a few other instances we show you what not to do even if it's simply to stay put if the tide is running.
If you are new to our YouTube channel then you may want to poke around a bit and check out our Playlist videos that are grouped together in similar topics. Feel like watching others Dock? are you considering traveling with Pets Aboard? Or maybe you want to learn more about all the Below Deck Systems?  If you do, we have hundreds, yes hundreds of mini-movies for you to learn more about your boating adventure.
Learn About Docking
While we are sharing links to only 5 of our Docking videos, when you go to our YouTube channel Docking Playlist you will find over one hundred and thirty-five Docking video clips to learn from. While most videos are only two to three minutes you will find something interesting about docking correctly in each and every clip. But, there are a few that are a bit longer because they show what to do when you miss your first try, or your second try too. So without further ado, click on 5, 4, 3, 2, 1…
Blastoff!
#5 Docking Video – SeaRay Docking in High Winds. A big SeaRay docking in high winds at Tidewater Marina in VA. Watch the procedure and consider his decision to bow into the slip. Its was a good move understanding the conditions.
#4 Docking Video – Single Engine Docking. Watch this new boat owner dock his single engine Mainship into the slip near White Rocks in the Chesapeake Bay. The high speed engine you hear running is the generator.
#3Docking Video – Gold Loopers Before and After. Captain Chris helps these loopers get started on their great loop adventure. This 5 minute clip shows their first docking and one year later captures their excitement as they finish the loop. It's your turn next…but a little practice can't hurt!
#2 Docking Video – Nordhavn 47 Leaving with the Tide. Practice and patience makes leaving the dock simple and easy, even on this BIG Nordhavn trawler! By resetting lines the mate can do it all without the help of marina staff- makes the Captain look sooo good even in tight spots.
And the number ONE Ask Captain Chris Docking video from our free YouTube Channel is…..
#1 Docking Video – Docking in High Winds. Practice in calm weather so you know how to power your engines (and thrusters if you are lucky enough to have them- this boat did not) BEFORE you really need to. And pay attention to other factors such as wind deflection from buildings, other boats and docks. And if you have the time you might poke around and read ALL the comments- some positive, some clueless and some are downright snarky. My favorite comment from a viewer addresses the keyboard captains who can always do it better. If you are a seasoned boater then you've been in less than ideal situations…This captain did the right thing- try, try, try again. Slow and steady wins the race!
Dock with Confidence
Not sure what these topics are all about or how you can dock with confidence? Get our 60 minute Docking video to watch with your crew. Ask Captain Chris in our INTRODUCTION TO BOAT SYSTEMS  or CRUISING 101 FUNdamentals Seminars in Vero Beach Florida. Give us a call 772-205-1859
So don't forget to subscribe today to our YouTube channel so you don't miss out.