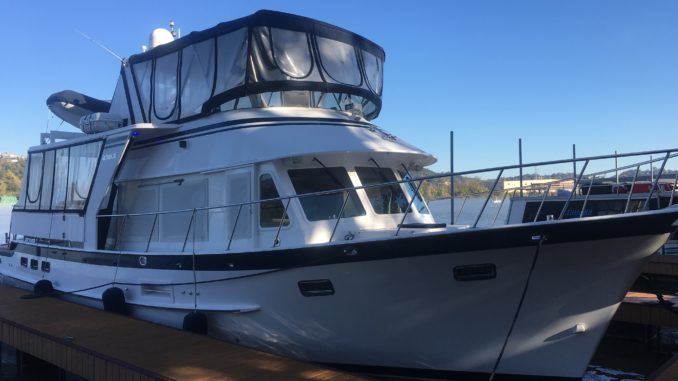 Thanks for the help!
We love to hear from you and learn all about your cruising adventures. We met this couple through the AGLCA (Great Loop) and helped them review a number of boats before they found their perfect boat to do the loop. Here is a snippet of their adventures including some photos from their initial time aboard their DeFever 49 CPMY.
Captains:
Idette and I hope that you are well during these unusual times. First, we'd like to thank you for the help you have given us over the past year to prepare for and execute our journey.  Our original plan was to do the Great Loop which was curtailed due to the Illinois River lock closures.  Next we decided to do the Down East Circle.  Current times (COVID-19) threw a wrench into that plan, so we will now simply cruise up the East Coast and then return south later in the year.
We left Chattanooga late February.  The Tennessee River was flooded which made for a brisk downstream run to Iuka, MS and the Tenn-Tom Waterway.  While the swift current, eddies and debris required agile piloting, the trip was a success.  The USCG had just lifted commercial restrictions on the TN River, so the barge traffic was heavy and the locks busy.  Good news was that the barges cleared out the debris fields at the locks that were quite extensive.
From Iuka to Demopolis, it was a pleasant run.  It was flooded as well.  A solid push from the current but again manageable.  South of Demopolis was an entirely different story.  The Tombigbee River was quite flooded.  It was 56 feet above pool level when we arrived … a number I still cannot comprehend.  As such, we stayed in Demopolis for about a week and half waiting for the flood to recede.
It was a sporty ride South of Demopolis.  All of the buoys were submerged.  We relied heavily on Navionics and depth sounder to maintain center channel.  Far from ideal.  We docked at Bobby's Fish Camp which was a challenge given the current, but the docking skills you all taught us paid off.  Departure, well that was a different story …
From Bobby's, we motored directly to Dog River Marina in Mobile.  I misjudged the current speed and our SOG, so we arrived after dark.  An unpleasant experience, but ultimately successful.  Lesson learned for us is to end the trip early and be safe.  We could have easily docked at the Mobile City Dock two hours earlier.  
After Mobile, we stopped in Destin, Panama City and Apalachicola.  That segment was comparatively benign and pleasant.  A nice reprieve from swirling eddies that we endured for several weeks.  
We opted to do the overnight run from Apalachicola to Clearwater as we could not secure a slip at Crystal River to do the Rim Route.  The WX and wave forecast were favorable.  Conditions were good and we made it across without a hitch.
Docking in Clearwater was an entirely different matter.  See photo.  In short it was a nightmare.  After many failed attempts to dock in the slip, we tied-up on the face dock.  We moved the boat after the current and wind subsided.  That was March 24th and we have been in Clearwater since.  Lesson learned (reinforced) – know the prevailing current and wind before you arrive, grill marina staff for local knowledge, bail early for an alternative, and "every man has to know his limitation".
SeaGlass is currently at a boatyard – stabilizer repair and bottom paint.  Should be done by Monday.  After that, we will see …  
Thank you all for your help and encouragement.  While such voyages have their challenges, ours has been particularly so.  But Idette and I were well prepared to handle them due in large part to your training.
Take care and keep in touch,
Regards,
Robert & Idette
Ask Captain Chris to Build Your Cruising Confidence
We love to hear from you and learn all about your cruising adventures. Thanks to Robert & Idette for sharing them with us. If you'd like our help to learn more about boating, cruising, maintenance or close quarters maneuvering just Ask Captain Chris. 772-205-1859. Join us at a 2-day seminar or try a FREE online series like this one on Docking Tips.