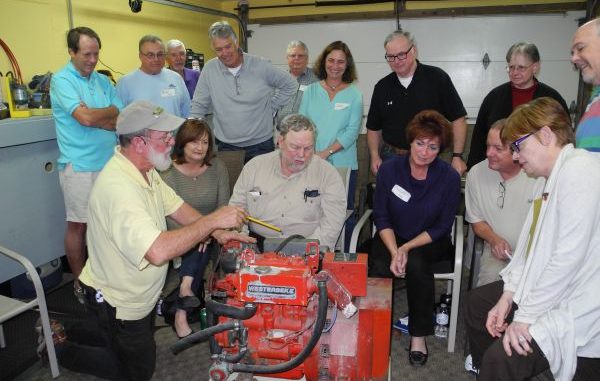 Ask Captain Chris about cruising and you'll be better prepared when you start out on your own adventure. Videos are the next best thing to being there and many of you have asked for online streaming to provide access to training without DVDS.
Since we all learn in different ways, Ask Captain Chris offers many options for you to build your cruising confidence- Seminars, Phone Consults, Hands-on aboard your boat and Video training. Here are a few of our latest additions to Vimeo, the online streaming access.
Haulout and Generator Removal- What to Expect in the Boatyard– If you've never hauled your boat for services or even for a survey then this episode of Ask Captain Chris will prepare you for your first time. Join Captain Chris as he narrates the haulout of a 47 foot pleasure Yacht, as she cruises into the haulout well and is raised from the water by travel lift. The reason for this haulout is to remove a generator using a small crane. But your boat may have other repairs in store such as replacing a fuel tank or propulsion engine and it's good to be prepared. Click here to watch and learn..or Ask Captain Chris 772-205-1859
Cruising Clifton TN to Joe Wheeler State Park Rogersville AL Part 1 of 3- Perfect for first time river cruisers and Loopers! Cruise with us aboard a 43 foot twin diesel Carver into Clifton, TN then up the Tennessee River through the locks into Joe Wheeler Lock and State Park Marina, a favorite stop for Southbound Loopers. Watch as we radio the locks for entering permission, pull up and secure the boat to the bollard and then exit the lock. Bonus footage: Cruising includes checking the engine room, overtaking towboats with multiple barges and docking tips. Ride along with us to see the real world of Looping on Part 1 and consider Part 2 & 3 to complete the voyage. Click here to watch and learn.
Cruising Joe Wheeler State Park AL to Goose Pond AL Part 2 of 3- Ride along with us on this 43 foot twin diesel Carver on the second leg of a trip on the way to Chattanooga TN. See the captains duties as we check systems and cast off from Joe Wheeler Marina and continue up the Tennessee River with a stopover at Goose Pond Marina in Alabama. More cruising skills and navigation along the winding river including guessing where the marina entry channel is located. Sharpen your skills as we cruise upriver. Click here to watch Part 2. Don't forget to watch the third and final segment.
Cruising Goose Pond AL to Chattanooga TN Part 3 of 3- On our last day of this training delivery, we drop our lines and idle out the private channel of Goose Pond Marina. Our journey brings us back into the TN River as we head upriver for our final destination of Harbor Lights Marina above the Chickamauga Lock and Dam. Two more locks bring us through downtown Chattanooga and to our new home port. Surprise! Someone is in our reserved slip. Click here to watch and learn as we sort this out and dock, dock and dock again with more docking practice without a bow thruster on this twin engine cruising boat.
And below you'll find descriptions of these FIVE training topics which are available both through Vimeo as downloadable video and also as single DVDs or a set of all FIVE through our online store.
The Perfect Boat- Do you want to start Living the Dream aboard your own boat? Many of you may not have any boating experience but that's OK! Maybe you have owned smaller, less system intensive boats and want to move up to something larger and more comfortable. We are happy that Ask Captain Chris DVDs can help you with your learning curve. NO pressure- we don't sell boats. Click here to watch and learn more.
Bridges- There is more to navigating through a drawbridge than most boaters realize. Let Captain Chris show you many different types of bridges and how each many effect your cruising. In this episode of Ask Captain Chris you will witness VHF radio communication with a bridge tender, including proper terminology and how to determine the correct channel for that bridge. We will help you learn about bridge schedules and where to find them. It's important to understand how the height of your boat, the tide level, wave action and current flow all can influence your travel as you encounter these bridges. We've included some surprises you may never have anticipated. Click here to watch and learn.
Locking Through- If you plan to cruise the Great Loop or are just curious about how you can take your own boat Locking Through on the waterways, our latest training video is what you need. We will teach you how to contact the lock, enter and secure the boat in a variety of lock designs and mooring styles. Before the lock doors close, before the chamber floods just Ask Captain Chris and he will show you how to Lock Through! Click here to watch and learn.
Docking with Confidence- Learn docking procedures for cruising boats with single engine, twin engine or pod drives both with and without thrusters. Captain Chris demonstrates easy to understand docking maneuvers with split screen views including controls at the helm and dockside landing. You will discover simple techniques to take the stress out of docking, keeping the pleasure in pleasure boating. Click here to watch and learn.
Anchoring- Captain Chris will put your mind at ease the next time you set your hook. Our latest video in the Ask Captain Chris training series – ANCHORING – is now available. If you have ever dragged your anchor or listened to anchor horror stories from your boating buddies then this video will help you anchor like a pro. Learn about different anchor designs and which anchors are right for the sea floor conditions where you plan to be. We'll make it easy to determine your scope and length of rope or chain and how to do it all without yelling! Ask Captain Chris about ANCHORING…he will show you how and you won't have to clean mud off the deck. Click here to watch and learn.
Have more questions? Ask Captain Chris 772-205-1859 or email today.