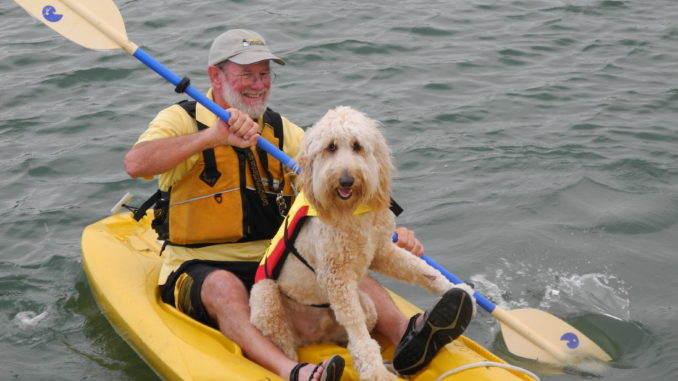 This is Pleasure Boating. But how fun would it be without our pets?! Most pet owners wouldn't dream of leaving our kids behind when we set out for our cruising adventure. But before that dream becomes a nightmare we offer a few things to consider for smooth sailing and a happy crew.
Checklist
Here's a check list to help you prepare to welcome aboard your four footed crew members. Certainly not all inclusive but meant to get you thinking. Have questions? Ask Captain Chris chris@captainchrisyachtservices.com
Collar/Leash/Tether
Identification (Engraved I.D. tag with boat name, Rabies/License Tag, Microchip Tag, Tattoo)
Harness
PFD (see our video for possibilities)
Raingear (Sweater, Jacket, Hat, Boots for the best dressed pet.)
Food & Bowl
Water & Bowl (Collapsible Bowls are available to take along when your exploring on shore.)
Treats
Medications
Toys
Poop Baggies
Antibacterial Wipes
Gloves
Litter Box, Newspapers
Astroturf (We have some strong feelings about potty on board but that's another story for a another day.)
Combs/Brushes
Shampoos
Grooming Products & Grooming Tools
Veterinary Documents including health history
Lost Pet Poster (if you want to get a copy of what worked for us email your request to chris@captainchrisyachtservices.com)
Crate (One where animal can stand erectly in the event that you must leave the boat and travel with your pet.)
Bed/Safe Place all their own where they won't be bothered
Fur Baby Life Jackets
There are doggie and cat life jackets made specifically for our furry friends. Our favorites have handles like a suitcase to help in lifting them if they fall overboard. Here is a short video clip to give you some ideas on what life jackets work and why. Your pet will often get excited about taking a walk. See the leash? wag wag wag. Well, we recommend that you get your pet as excited about a life jacket as they are about the leash. Equate both leash and life jacket with going for an adventure. The proper jacket can make the difference between bringing your pet aboard after a splash…or a very bad day.
Don't forget to check out our Cruising with Pets playlist on Youtube. Get a few more ideas on how to keep your pet safe while cruising. Ask Captain Chris 772-205-1859 and Happy Doodle Day- Introducing our two crew members, Bert and Ditto!!