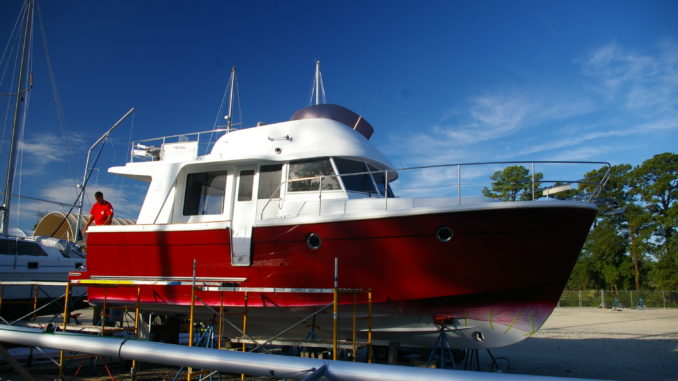 The first Beneteau Swift Trawler 34 in the USA is now at St. Barts Yachts in Charleston, SC. St. Barts Yachts sold the first Swift Trawler 34, 42 and 52 making a trio of firsts in America!
Driving home from Trawler Fest Baltimore, we have the opportunity to visit the ST34 while in the boatyard getting the hull painted Claret Red. A client from the mid west asked us to preview this new arrival before he flies down for a test drive. Alyse and I are wowed before we even stop our car. Here are some photos of our visit with a little HE SAID/SHE SAID:
Captain Chris says: This 34 foot Swift Trawler has a great appearance from the parking lot. Because she is in the yard being painted we are not able to take a sea trial but we can still photograph the hull and running gear.
Equipped with a bow AND stern thruster, docking will be incredibly easy even though it is a single screw. The propulsion gear uses a tunnel in the hull and a FIVE blade propeller. The traditional Swift Trawler hull form with the deep keel keeps the boat on track while running and protects the prop for low speed "soft" groundings when exploring out of the way anchorages. Engine room and lazarette are designed for easy owner maintenance as well as storage of spare parts and water sport equipment.
Loopers, this is a boat you need to see. The flybridge is low enough to clear the 15 foot bridges and the dinghy mast easily hinges and folds down. Dinghy storage is on the roof to make use of the swim platform or starboard companionway and allows for easy dock access at your marina.
The interior is laid out well making this a friendly boat for cruises with a lot of visibility allowing light in. There are 2 dedicated staterooms, one master queen and a guest bunk room providing guests or kids their own separate berth.
Maneuvering will be uncomplicated with great visibility from BOTH the flybridge and lower helm and full controls of the engine, bow and stern thruster all in your right hand. Because of its 34 foot size the designers use a cabin port scheme to increase interior space without sacrificing walk around deck space to port. Although the port deck is a bit smaller there is a full size walk under cover to starboard.
The high bow will part waves when crossing rough water and the flybridge helm has a venturi windshield to prevent spray in your eyes.
Captain Alyse says: Wow! It is everything that's in the Swift Trawler 42 and better- except for a second head. But she IS just 34 feet, something I keep forgetting as I board. I would prefer to check out this new addition to the Beneteau Power Boat family when she is floating but…… We are driving our car back from TrawlerFest in Baltimore and the Charleston City Boat Yard is on our way home to Florida…Sorta.
We arrive in the yard well before the painters who are prepping the below water and boot stripe so we can spend a little time snapping photos for one of our clients. Stepping aboard from a scaffolding ladder was not my idea of fun but it helped that there was a midship entry just like on the big sisters ST42 & 52. I kept reminding myself she IS just 34 feet. So much room, so many amenities. Docking will be a snap with the bow and stern thrusters.
Full walk around decks! My bias for sure. Safety is so important to us and regardless of whether we dock to port or starboard on this trawler, we can easily secure lines without the help of a dock hand. Nice.
On the aft deck I am surprised to find enough room for a few chairs and easy access to the swim platform. I hop down into the lazarette. Yes, this is a 34 foot boat with storage below decks for fenders, folding director's chairs, lines, a water hose and then some!  Much more than just a weekender.
The huge sliding door leads into the saloon and allows for great ventilation. This gives you a wide open feel when looking aft from inside the saloon. A real sofa sleeper sits two comfortably but move those two directors chairs from the aft deck into the saloon and four can easily dine in the comfort of cool a/c (or heat as we head into fall/winter in Charleston).  A beautifully varnished table allows plenty of space for dinner plates, poker chips or Farkel dice. Ask a cruiser about Farkel.
The galley has amazing elbow space and offers a combo convection/microwave oven. I've cooked a full Thanksgiving Turkey in one just like it. The drawer and cabinet space is well thought out including a catch-all bin where I can definitely imagine spices and other essentials being quite handy just above the gas stove top. I think this galley is actually an improvement on the 42 for functionality.
The master stateroom feels comfortable enough to live aboard with impressive storage. While the guest room is set up with bunks, they are open, generous in size and give you choices for sleeping other-than-couples. There's always the sofa sleeper.
Time to check fluids…well, if we were floating and could go for a sea trial. Once you move the table, entry into the engine room is easy and most everything is accessible without crawling on hands and knees. Again, this is really just a 34?
Downstairs steering station allows for two to sit side by side and affords good visibility in the event of foul weather. I was reminded once more of the much larger 42. How'd they do it? Up on the flybridge, I feel like I could be driving a sportscar. Terrific visibility and everything I need in reach. The upper deck allows for a small dinghy or plenty of space for sun tanning if weaver davits are installed on the swim platform.
I can certainly imagine Chris and I doing the loop but I'd want mine in midnight blue!
For more details visit www.passagemaker.com October 2010 or May 2010 issue for editorial and photos underway or contact St Barts Yachts and ask for a sea trial!
Check out our facebook page and let us know what you think.