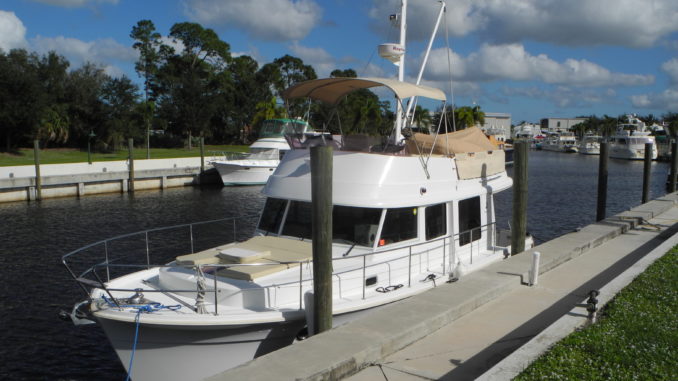 I have never seen 34 feet of boat packed with so many features…until I saw this Beneteau Swift Trawler 34!
This sweet cruising boat has a single Cummins propulsion engine with an Onan generator and dual thrusters, bow and stern. This is a true Swift Trawler- fast when you need speed and slow but economical cruising to smell the roses and save the gallons of diesel fuel. With a flybridge and lower helm controls, two staterooms, folding RADAR mast and dinghy boom to carry your inflatable on the aft roof top, what more can a cruiser want?
Fritz and Susan just purchased this cruiser to start the Great Loop. I helped them learn more about the below deck systems, docking and anchoring building their cruising confidence. We even practiced on the St Lucie Lock at the eastern end of the Okeechobee Waterway near Stuart, FL. Locking up then down 14 feet was a nice bonus!
Watch these loopers head north and meet them in Norfolk at the May RV for the Great Loop annual northbound meeting. And if you'd like to learn more about the Beneteau Swift Trawler 34 then here is a link to an earlier article by Captains Chris & Alyse where they give you a he said/she said review of this terrific trawler.
If you need more details about locking through on your boat just Ask Captain Chris.