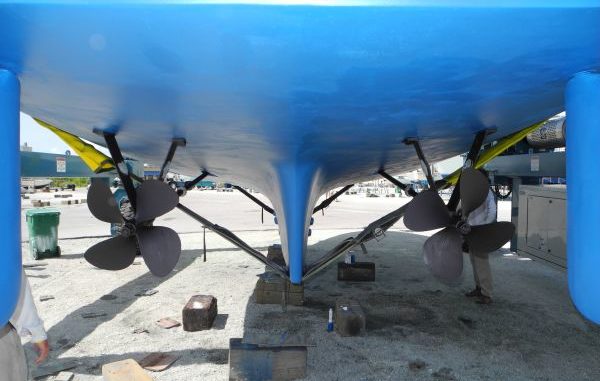 Below the Waterline
Know what is below the waterline BEFORE you buy a boat. Many boat buyers buy their perfect boat for style, comfort and fuel consumption. But what is below the waterline of your boat? Learn more about your boat before you head out on your first of many adventures. And, know what is below the waterline before you take it to the boatyard for service
Here Is What You May See
Keep scrolling and tour our LARGE photo array of what's below the waterline on most cruising boats. You will find thrusters, propeller systems, stabilizers, exhaust systems, shaft splicers, cutlass bearings, bulbs and more. YES, we even want to remind you about the condition of your tires on your trailer or truck. If you'd like to learn more about any of these items please Ask Captain Chris by email  I'd like to learn more about….    or call 772-205-1859.
Take A Boatyard Tour
And consider joining us in-person for a boatyard tour on the Sunday morning following any of our 2-day seminars in Vero Beach. If you can't make the in-person tour then see what else you can learn about what's below the waterline of your boat by watching this video pre-hurricane. This walk through a boatyard video, Boats in the Road   is longer than most of our real world clips but if you want to learn more then this should really get your mind thinking: What about…..?
But Wait! There's More!
We now offer Vimeo, a video rental service you can direct download and watch our entire video collection. Rent or own. Check back frequently to see our newest posts including detailed training trips aboard popular cruising boats, Fuel Filter tips and more. Click here to see what's new with Vimeo.  Ask Captain Chris!
Don't Forget the Photos
Ask Captain Chris! 772-205-1859