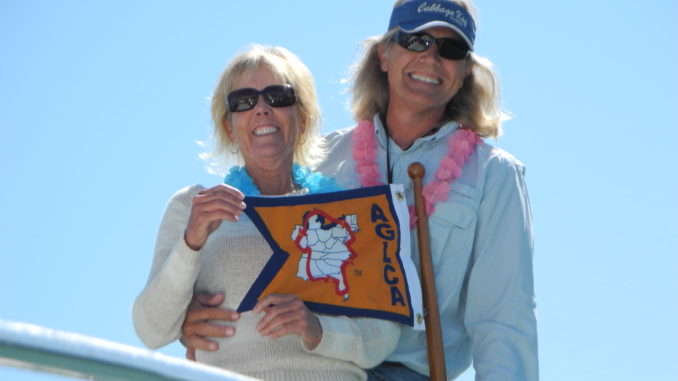 Many Future Loopers have never owned a large cruising boat nor ventured 100 miles or more from their home port. Here are links to a few articles which will answer some of the frequently asked questions about the Great Loop.
What is the Great Loop? The simple answer is the Great Loop or Great Circle is a route around the eastern portion of North America, all by water. This and so much more when you click here.
How do I get started? Buy a boat and follow the route…but of course there is so much more than untying lines and setting off. Building your cruising confidence by attending classes, doing the research and getting help from a cruising coach should be your first steps. In this link we bring you to a podcast presented by the AGLCA (America's Great Loop Cruisers Association) and a list of some considerations of what to know before you go cruising.
What's the Perfect Boat for the Great Loop? There is no perfect boat but there are a few essentials that you must know before you buy the right boat for the type of cruising you plan to do. For instance, your boat must navigate under the lowest fixed bridge which is 19'7″ but even sailboats can do it if they step their mast. And there is more to learn here.
What about learning to drive the boat if I never owned a boat before? You might be amazed at how many first time loopers are also first time boaters. We suggest that you hire a training captain. Yup, there's a difference.  This is one of many training trips when we helped future loopers. But if you poke around our website you will find many different ways we can help build your cruising confidence.

Can I dock a boat that's 40-60 feet? Of course you can dock. But it will require practice, practice and more practice after you learn the right way to dock. Here is an article that will point you in the right direction. And this link offers a free 5 part series called Docking Tips.
Do I need to be a mechanic to do the loop? DIY maintenance is important for all boaters but loopers have more incentive. When you come home to your own marina each night you can call your mechanic to change the oil, fuel filters or repair the air conditioner. As you cruise through 6000 miles, most loopers want to learn the basics of DIY maintenance before they leave their home port. While you don't need to be a certified mechanic, it sure helps to know before you go. We can help in our Introduction to Boat Systems 2-day seminars. And, if you register here you will receive a free 7 part series on Boat Systems Tips.
How do I lock through the 100+ locks I will encounter on the Great Loop? We like to say that if you can dock then you can lock. It's all about close quarters maneuvering. But there are a variety of locks throughout the Great Loop route and it's best to be prepared before you enter any lock. Learn more about locks here.
Would I be safe Anchoring overnight? Anchoring is easy when you have the right anchor for the current water bottom and the proper amount of anchor rode for the water depth. This link will help increase your understanding and confidence when you anchor. And don't forget to scroll all the way down to the 4 part series on Anchoring Tips.
How far in advance will I need to reserve a slip? That depends. For a one night slip you can usually find a place to dock with a phone call that morning. Holidays and winters in Florida are an entirely different kettle of fish. Some places in the Keys require a deposit for 3 months minimum reservation. And you should call more than 6 months in advance to secure the slip.
How often will I be able to anchor vs. reservations for a marina slip ? We recommend getting familiar with trip planning, with docking and anchoring skills and then you can decide anchor or marina. Of course your navigation equipment should be up to date and easy to use. But whether it's a paper chart or high tech GPS chart plotters, we also like to supplement our navigation equipment with guide books and even a few online forums. Researching on line is wonderful in the planning phases but there are still some places along the great loop route where cell coverage is less than optimum. So be prepared for the just in case and have a back up plan. In the meantime, while we prefer to anchor we find that most loopers tie up in a marina at the end of each day. Docktails are calling!
What about….? We are sure you have at least a few more questions about the Great Loop and building your cruising confidence. So, give us a call and Ask Captain Chris 772-205-1859.