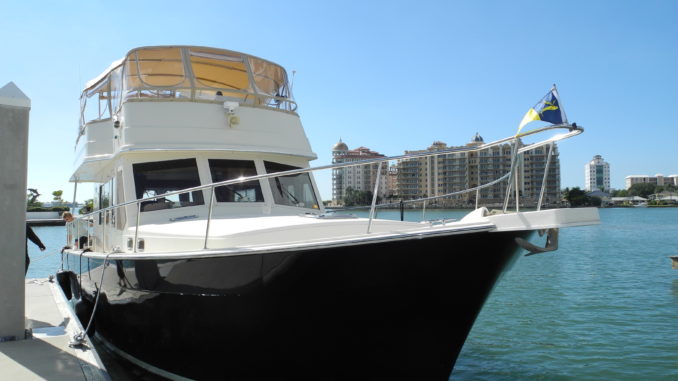 This sweet Mainship 43 is ready to start the Great Loop and now thanks to Captain Chris her crew is ready too!
A few months before beginning the trip of a lifetime, this couple found their perfect boat. Having spent most of their boating life aboard sailboats, catamarans at that, they recognized how different cruising under power is from sailing. As members of America's Great Loop Cruisers' Association they had researched a great deal about the journey ahead of them. But just reading wasn't enough to allay all concerns so we were invited to come aboard to help with that and more.
Learning together as a couple really does build confidence all the while keeping it fun with hands-on practice. So we build on their foundation of boating experience starting with a review of the boat systems below and above deck.
To change things up and keep it interesting we moved on to navigation and a little trip planning. Working with charts and GPS/chart plotters is a good refresher for them and we are able to share a few tricks to make navigation easier.
It is essential that all crew know how to use all safety equipment and where it is kept- life jackets, flares, first aid kit and more. A fun safety technique to practice includes the VHF radio especially when the SeaTow marine traffic channel (26 or 27) is available. Calling for a radio check on channel 16 creates unnecessary radio traffic or chatter on an important channel that should only be used for hailing and distress. Switching to another channel keeps 16 open. Switching to the SeaTow channel allows you to hear a recording of what you sound like to others, if your signal is strong and how clearly you enunciate. Pretty cool!
Before we head out for the open water we must first be sure everyone knows their knots, then check lines for wear and prepare enough fenders for the just-in-case dockings in our not so distant future. It's amazing how a simple knot can become a problem if it is not executed properly. A previously choked line over both bow pilings creates a bit more make ready work for the deckhand. So learning to tie a bowline is very important (click here to learn about Cruising 101 classes that include all these skills and more).
A few days aboard allow us time to practice, learn a bit more and evaluate how the team is progressing. It's an eye opener when you realize how far you've come by building today on the mastered skills of the previous day. When you are in the learning phase don't forget to assess your progress. That can be a real morale boost!
Our last day together ended with a check list of sorts. Our training time together was a bit of a shake down cruise for these future loopers and their Mainship 43. Before this couple leaves their home port for a few months or a few years, they are having some maintenance items addressed. Then they will take a short trip to be certain all is ship shape when they set their course for the Great Loop….and all the other meandering side trips that most loopers find too tempting to resist.
If you are considering becoming a looper, a cruiser who takes their boat throughout the waterways of America's Great Loop, but aren't sure where to begin…just Ask Captain Chris! or 772-205-1859