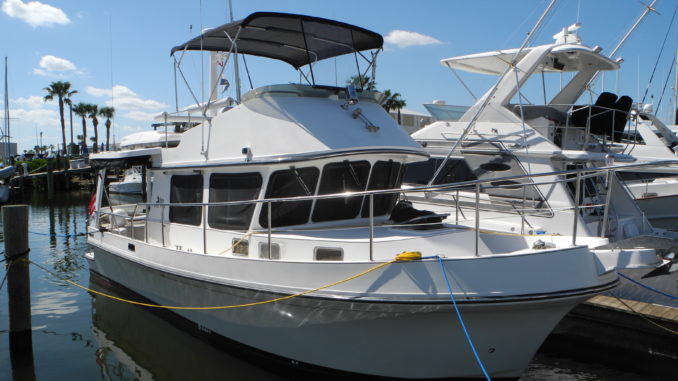 How do you transition from a sailboat to a trawler? Ask Captain Chris!
Some major differences in the two styles of boats include that the trawler has a lot more space and visibility, easier access to the engine and a flybridge. But with those perks come a learning curve that includes more below deck systems as well as maneuverability differences. Most single engine trawlers walk right in reverse and you can learn to use this quirk to your advantage when docking. A bow thruster is a nice asset although not required. Captain Chris spent a day aboard at Harbortown in Fort Pierce Florida docking, docking and more docking. Then we took a break and anchored for lunch in Faber Cove.
During our anchoring procedures preview we discovered the all chain rode was shackled at the bitter end. It's customary to have a few feet of line spliced to the end of the chain. Then that line is secured to the boat inside the chain locker. This allows for quick separation and escape by cutting the line if your anchor is stuck.
After a day's training together, they are more confident about their new boat with plans  for cruising to the Bahamas.