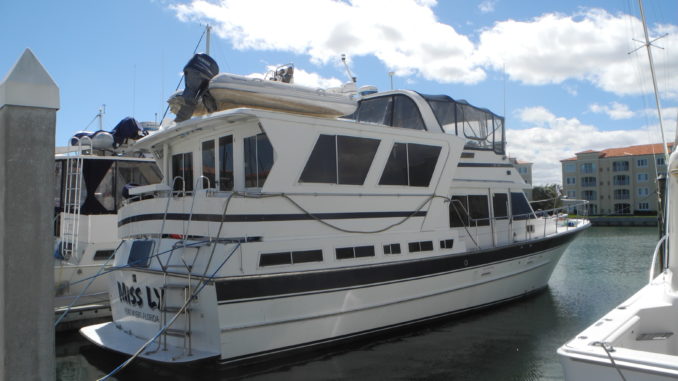 Ed and Ly have retired and started cruising aboard their Jefferson 52 Motor Yacht. Before they head out onto the Great Loop, they contact Captain Chris to help build their cruising confidence.
Powered by twin Caterpillars this Jefferson cruises easily at 8 knots and can get up and go if asked to race to a drawbridge. After a few updates are made to their large live aboard cruiser including a folding RADAR arch and antennas to slide under low bridges on the Erie Canal, the training begins.
Ed and I explored the below deck systems changing fuel filters, checking raw water cooling systems and dripless shaft seals.
Our training involved cruising a part of the OWW, Okeechobee Waterway, a southern section of the Great Loop. We motored from Fort Myers, FL to Moorehaven, FL transiting the Franklin and Ortona Locks. Lake Okeechobee water level is very high this year and the Army Corps of Engineers is draining the lake in both directions, east towards Stuart and west towards Fort Myers. This is important to know when planning the trip as it added a strong current flowing to sea as you enter the lock chamber.
Our docking practice was made easy with a very large 24 volt bow thruster and Caterpillar propulsion engines.
Loopers, watch as this beautiful cruiser glides past your home port as Ed and Ly start their next adventure Cruising America's Great Loop.