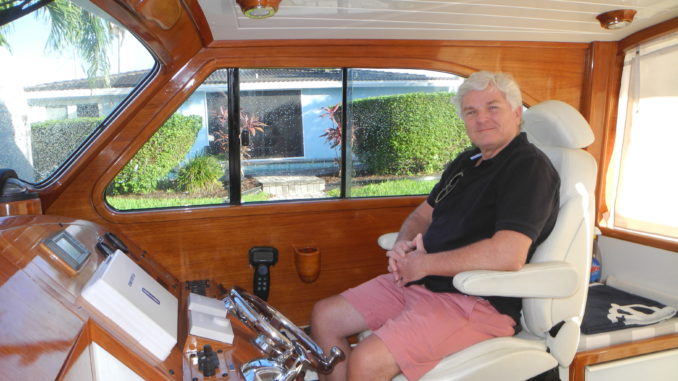 We all have had the discussion about gas or diesel but have you ever considered Jet Propulsion for your pleasure boat?
Not exactly a JET but it is a diesel engine spinning a water jet with very large internal metal impellers instead external propellers. Cool stuff!
A popular design of Day Boats aka Picnic Boats uses a combination Yanmar Diesel engine coupled to a Hamilton Water Jet Drive giving you very shallow water capability.
Captain Chris was invited to tour these two jet boats to see more and help Jerry become an informed buyer. Jerry attended one of our Introduction To Boat Systems Seminars and asked Captain Chris to teach him more. It's amazing how different boat builders accessorize, tucking systems into varied nooks and crannies. It's fun to find the things that matter and having an experienced captain show you where to look helps ease the learning curve. Be sure to scroll down to watch the video of the drive system and click on the photos of the boat below deck to enlarge them and see Captain Chris commentary.
The Hinckley and Dereli look similar in design and both use the Yanmar Hamilton drive system. The jet system takes a little practice to learn the difference between the jet propulsion and traditional screw/propeller propulsion. But practice makes perfect no matter what you drive.
Just imagine easing your 40 foot boat up onto the beach and not have to worry about fouling your propeller. Or bringing your 40 footer to a friends dock in their back yard that only has 3 feet of water. No worries about dinging your prop with the jet propulsion system.
Ask Captain Chris about this and other types of boating systems so you can have FUN on the water.