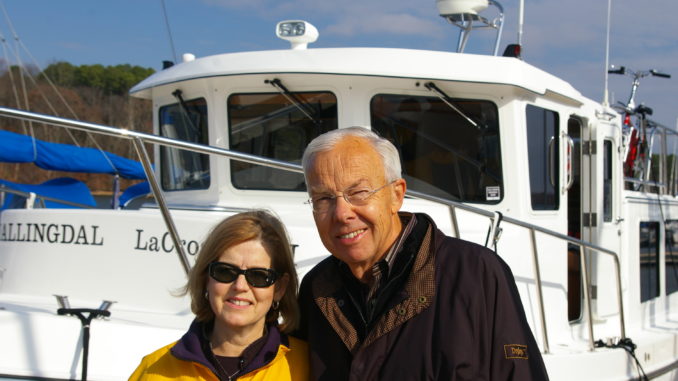 Yes it is December. Yes it is COLD and yes, we are up north training with some LOOPERS who are casting off from Joe Wheeler State Park on the TennTom Waterway.
Conrad and Bonnie have an American Tug 34 and requested additional training to help them become more proficient docking and anchoring their boat.
They are preparing themselves for entering Mobile Bay, salt water, tidal currents, sand bars, fixed docks, dolphins and sea turtles. After spending the frigid fall in the northern climate they are ready for some warmer weather and blue seas. Florida is calling. 
The American Tug 34 is easy to maneuver and has great visibility for docking. The single engine boat also has a bow thruster making the landing simple. We also anchored to enjoy a peaceful lunch in the rain then decided to send all the chain out to confirm the bitter end was secured to the boat. See our maintenance section for a side article on marking your anchor chain. 
Chart plotting, cruise planning with tides and Radar Navigation is next with time spent comparing paper charts with electronic data and Oh YES, we promote "looking out the window" confirming everything is where it is supposed to be. MAGENTA LINE you say? Remember that line was drawn a long time ago and the channel may have been moved either by the Corps of Engineers or mother nature. Stay alert.
Hurry south, the white sand beaches of Florida are waiting for you.