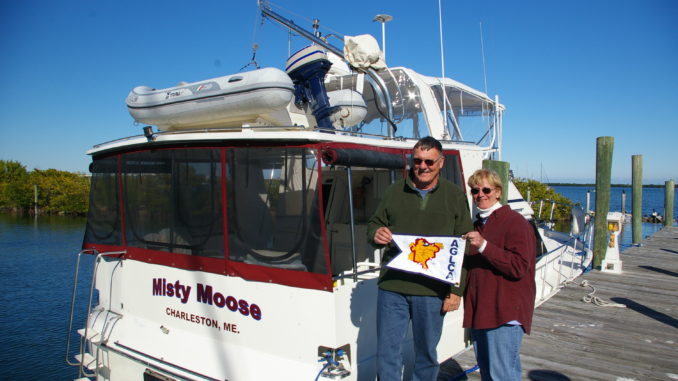 A recently retired couple from Maine just finished refitting their new-to-them Golden Star 42 Motor Yacht. (Thanks for your Service in our armed forces as a Helicopter Pilot, Steve!) Now ready to cruise the Loop Gladys and Steve have asked us to work with them on docking, locking and the general how-tos of the cruising lifestyle. Our starting point is Indiantown, FL with a shakedown cruise to Fort Pierce.
Each time we are asked to drive an unfamiliar boat, we perform a vessel systems review and safety inspection before we ever start the engines. No exception this time, our review certainly helps these new owners to become comfortable with where these safety items are -lifejackets, flares, etc. Then we make a little time to work on navigation and trip planning before we take in the lines and head East on the Okeechobee Waterway.
Only one lock lies between us and salt water and soon we will smell sea salt of the Atlantic Ocean. After dropping 14 feet in the St Lucie Lock we follow another cruiser 13.5 miles toward Stuart and the mooring field. Oops! We call the wayward cruiser on our VHF to remind him that the greens stay on his right as we head east on the Okeechobee Waterway (OWW). Preferring to anchor, we steer north to swing on the hook in the St. Lucie North Fork River near illuminated daymarker 6A. It's always good to have a point to reference for your middle of the night anchor check.
At sunrise we raise our anchor and negotiate back down the river through the mooring field chock full of boats. We can even take a peek at the dinghy dock. We spy a few other cruisers leaving so we follow them through the Roosevelt Bridge and head east toward the Atlantic Intracoastal Waterway. Cruising along the OWW we enter Manatee Pocket past the dredge to tour the anchorage and the dinghy dock. A sharp U-turn and poof! we are soon back out into the OWW, through the Crossroads of Stuart and into the AICW on the final leg of our journey with them.
Before we leave this couple at Harbortown Marina, Fort Pierce FL we review some items that they may consider before continuing on their cruise without us. Some of these items may not be essential but can make a long trip more enjoyable. This shakedown cruise has been terrific and we are so pleased to have been along for the trip.
Loopers, here comes another couple on the cruise of their lifetime! Look them up at the AGLCA Spring Rendezvous in Norfolk VA. They will certainly have many adventure stories to share.
Here's a follow up note from the MISTY MOOSE Crew:
Hi,
Just a quick note to let you know that we decided to stay at Harbortown for the month so that we can work on some of your suggestions. We are going to Indiantown today to pick up our truck…
…We really enjoyed learning about our boat from the both of you. The two of you were so easy to work with and we felt at ease with you from the moment you first came aboard.
As new owners of this boat, it was great to have your insight on everything from the engines to the heads. There will be much that we do not to have to "muddle" through on our own, trying to figure it out.
We can't thank you enough and our $$$ were well spent.
Regards,
Gladys & Steve
Misty Moose