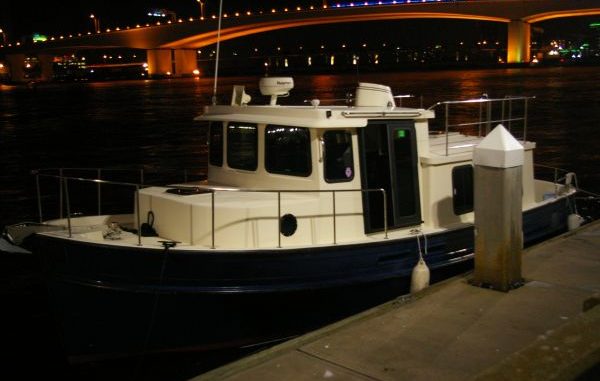 Vessel Type/Length – Nordic Tug 32+2
Cruising speed – 10 knots
Engine type/Horsepower – Single Cummins, 220 HP
Starting location – Jacksonville, FL
Final destination – Texas
This is a terrific boat for doing the Great Circle as the "loopers" run up the eastern coast of the United States. Their Circle route then takes them through the Great Lakes, back down the Mighty Mississippi River before crossing the Gulf of Mexico over to the Florida coast.
This an adventure of a lifetime for most boaters, one that must be planned well in advance. A prepared boater will consider the seasonal weather forecasts as it relates to the latitudes traveled. Another serious thought should be the speed of the vessel and how much time can be spared for the journey. The Great Loop is a trip that can be done in legs and with or without a professional crew to assist.
The new owner of this Nordic Tug has intentions of one day making this trip but wants to get very comfortable with some shorter cruises. Until then, Captain Chris helped him transit from Jacksonville down the East coast of Florida. They reviewed boat systems and navigation before and during the trip south. Anchoring and docking were high on the list but there's always time to check the engine fluids before starting out each morning on the ICW.
A few days down the coast the owners wife and faithful dog joined them. Next, a new dinghy was delivered at a designated rendezvous marina and Captain Chris was able to offer some pointers about storing and running the inflatable boat and outboard engine.
Time rushes by and this new owner is cruising confidently under Captain Chris' watchful eye. Time to fly on his own and this Nordic Tug is heading down to the Keys. Ultimately, he'll winter in Texas… unless he blows out his flip flop and gets wasted away in Margaritaville.