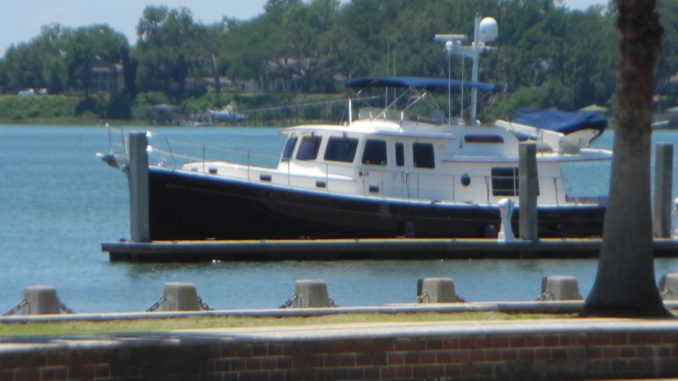 New owners of this gorgeous Krogen Express 52 asked for help with their cruising adventure. Just Ask Captain Chris.
KoKoMo departs Fort Pierce FL headed north in the Intracoastal Waterway (ICW) to ports unknown. Captain Chris has plans to train aboard until docking in SC. Then this crew should be a well oiled team as they continue north bound to the Chesapeake and beyond. Check out the photos and videos that capture a bit of their training trip.
St Augustine City Dock was the second night with plans for a first open water cruise the following morning. Leaving the inlet near sunrise for an ocean run our goal is to stop in Brunswick, GA.
Our first ocean cruise was approximately 70 miles in open water, 10miles out from St Augustine and 10 miles back into Brunswick. Our estimated cruise speed is 18 knots so we make this in a comfortable daylight day.
On our second day in the ocean we encounter a ship in the distance. The 6th photo below shows what we can see with our eyes. This link shows you what we can see on the RADAR. It is nice to not only have the right equipment but also know how to use it. RADAR, GPS, AIS, VHF and any other navigational equipment should be operational at all times while underway.
The remainder of this training trip included a few more hops out into the ocean to avoid the winding channels of the ICW. We were fortunate to enjoy spectacular weather and sea conditions, not to mention a well maintained boat with all systems GO!
If you'd like to have a cruising coach aboard for your new boat training…just Ask Captain Chris! 772-205-1859