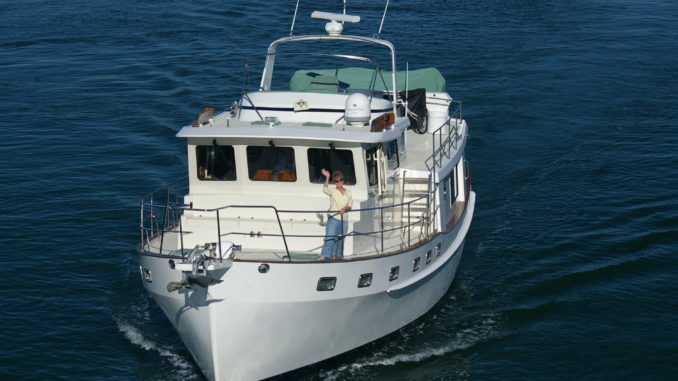 Listing vs Buyer's Broker
Reading a recent question in a boating forum about using a Listing Broker and/or a Buyer's Broker to buy a boat, I have a few comments to add. Please remember that I am a Training Captain not a Broker.
A Buyer's Broker can help you find and buy your boat. Your Broker representative should have your needs and desires at the forefront. They will know your budget and timeline, and should have a clear idea of what you want to do with your boat. Your Buyer's Broker should know if you want fast or slow, power or sail and how you want to cruise- full time or short trips. They should place your deposit in an escrow account upon acceptance of your offer. Be sure they include an escape clause in the purchase agreement in case the boat does not meet your satisfaction upon survey and sea trial. A Buyer's Broker should have that and more in your contract to protect you.
Beware the Listing Broker who is delighted to list everyone's boat but has no real plan for working to find your perfect boat. And here is something to tuck away in the back of your brain when it is time to sell your boat. Do a little homework when listing your boat to determine the marketing plan of your Listing Broker. It is simply not enough to post an ad and wait for the tire kickers to come see. A Listing Broker should have a few more tricks up their sleeve to target the right audience for your boat…but that's for later. Let's stay focused on the Buyer's Broker today.
How to Find the Right Buyer's Broker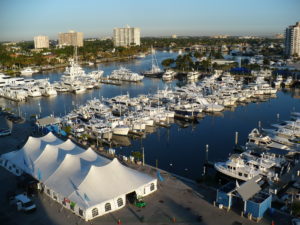 Even before you start looking at boats I believe you would benefit by first actually interviewing a few Buyer's Brokers. Be sure you have the right match. Attending a boat show allows you to see boats, boating products and service providers. But at the show you can also meet many different Boat Brokers with as many different personalities and selling styles.
So be specific with your needs. Ask potential candidates how they would address each need. Be direct and forthcoming. No sense telling a broker your budget is $500,000 when you are closer to the $100,000 mark. Coming to an AGLCA or MTOA Rendezvous is also a terrific opportunity to meet and chat with potential Buyer's Brokers in person. They will be focused on the needs of future cruisers. At the Rendezvous you may also meet some of their satisfied clients. Ask questions of those who have already found their boat with the help of a great Buyer's Broker.
Your Job as the Buyer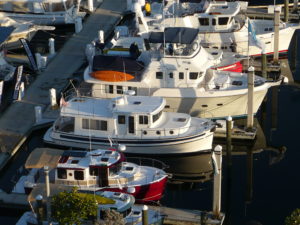 Surfing the internet is a terrific first step when looking at boats. But do it with care and specific consideration as there are many boats to sort through. Photos don't always tell an accurate story. If you've owned a boat before, you can easily list all the requirements for your new boat. Then add the desirable features you would like to have. Needs can include overhead bridge clearances and water draft for the loop. Add twin or single engines, living accommodations such as one head or two and location of the master stateroom- forward, midship or aft. You get the point and can grow your list from this.
If you have never owned a boat then you may have a little more homework to do. And we can help with that too.  Read a little further and you will find a few more tips.
Found a Boat You Like? Think Buyer's Broker!
When you do find THE PERFECT BOAT on line or in a magazine think Buyer's Broker. Do NOT contact the listing broker first! Not even to ask a question or two because they will get all your pertinent information and claim you as their prospect. Remember, whoever you speak to first will expect to get their share of the commission. If you do this out of order then your Buyer's Broker will not be compensated by the seller of the boat. It could get unnecessarily complicated.
If you see a few boats that interest you then consider taking these next steps.
Find a Buyer's Broker you respect and trust to help you review the boats you like. Remember to interview early.
Contact me– Captain Chris– to help you vet the boat online, telephone or in person. As an experienced Training Captain I can help you wade through the features and benefits of the boats you found online. I am not a broker nor am I commission compensated. I work for you on an hourly basis and do not benefit from the sale of any boat you purchase. My interest is helping you find the Perfect Boat (we have a 60 minute video for that too). Then you can contact your Buyer's Broker and they can take you through the buying process, negotiate price, deposit in escrow, survey/sea trial and final act of sale.
What? You have never experienced a Survey and Sea Trial? We have a downloadable PDF for that, too.
What's next? Ask Captain Chris!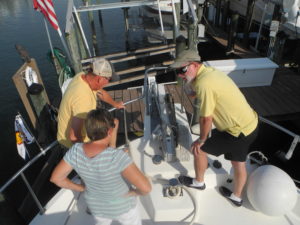 I can help you again after purchase by training you aboard your boat: systems, docking, anchoring, rules of the road and navigation wherever it is. Since many of the Loopers are first time big boat owners your insurance provider may ask for a licensed Training Captain to provide a letter of competency that you are ready to cruise aboard your new boat. A Training Delivery is an awesome way to learn about your boat, below deck, above deck and of course, close quarters maneuvering.
Other considerations in your cruising adventure may include: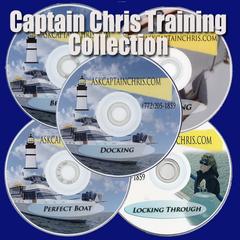 Just Ask Captain Chris 772-205-1859