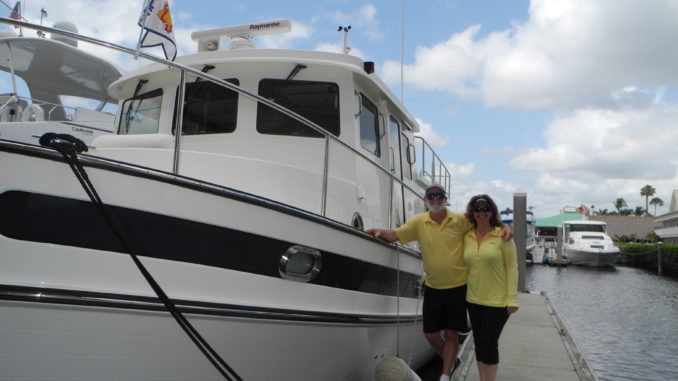 A beautiful LOOPING Boat, this Nordic Tug 42 was purchased in Fort Myers, FL. Captains Chris & Alyse were invited aboard to help the new owners learn more about their bigger single engine boat. Equipped with a bow thruster and single Cummins engine this boat is ready to cruise. We started training with a systems review both above and below deck including fuel, potable water, generator use and of course the GPS Chartplotter, RADAR and VHF Radio.
Part of this first day's training session was learning more about the tides and how to cross shallow sand bars (wait for the tide to rise). We cruise out of Fort Myers Beach and see a large thunder boomer headed straight for us so we wisely turn around and head back to the dock. No way were we going to get stuck on the sand bar in a storm!
Next morning we head out in better weather and a higher tide. We cruise into San Marcos Bay, up into the Miserable Mile, the Gulf ICW and then towards downtown Fort Myers as we join the Okeechobee Waterway. Our goal is to experience the Franklin Lock, a practice session to prepare for the Great Loop.
As we cruise under taller bridges and through slow zones we arrive at the lock. We hail the lock master by radio on channel 13 and are granted permission to enter.
Stations everyone! We deploy fenders then prepare to catch bow and stern lines to secure the boat to the lock walls. When the doors close we are ready to take in the slack lines as the water level rises. The water equalizes with the level on the east side of the lock, raising us about 4-6 feet. Then the doors open and we get the OK from the lock master to cruise out.
Anchor practice allows us to enjoy a quiet lunch and debrief the locking procedure. Before you know it, it's time to head back and catch the next locking west bound. So we weigh the anchor and cruise back to the lock and do it all over again. It's no problem when you know what to expect!
Now as we near the Legacy Marina we must think about all our options before we commit to our approach. We have a single engine 42 foot boat equipped with a bow thruster.  We consider the present weather conditions including cross winds. Our slip is the second closest to the parking lot and we have an audience. Yay! The pressure mounts with everyone watching and we glide into the slip using a little rudder, some throttle and touching the bow thruster. PERFECTION.
A celebration dinner was announced so we hike over to FORD's DINER and enjoy a great evening knowing we would do it all over again the next morning.
Docking, Docking and more Docking, side to, stern in and bow in…we did it all. Let's cheer Pam and Joe on as they start their Great Loop.