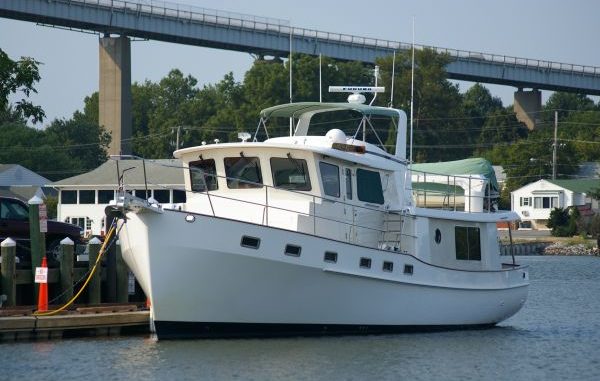 Vessel type/length – Kadey-Krogen Trawler 48
Engine type/horsepower – Single John Deere Diesel
Cruising speed – Economical 8 knots
Starting location – Annapolis, MD
Destination – Newport Boat Show Rhode Island
The owner of this incredibly seaworthy yacht was quite excited to start her big adventure and we were ready and eager to support her. We worked on this boat while in Stuart, FL so we knew the systems and were ready to go. This owner preferred to discuss all the options before taking up lines so we got into a rhythm of pre and post critiques. Afterall, sometimes things don't go as first planned and can get downright interesting when boats and weather are involved.
Although we were near the top of the Chesapeake we still had a long day ahead if we were to make Cape May today. We did not want to get caught in the Delaware River after dark and the tide would be against us so we planned an early stop in Chesapeake City on the C&D Canal. This is a lovely little town to meander in and out of shops and even bike around the countryside. Great for an afternoon visit.  A quick walk from the city's FREE docks brings us to a wonderful museum featuring a historical view of this burg including the now dormant lock. Naturally we had to have the local steamed crabs for dinner and yes, they were exactly what we expected.
Next morning we head east on the C&D Canal, turning south on the Delaware River with a heading for Cape May, NJ. As we cruise down the river we see the famed Clipper "Pride of Baltimore II" sailing up the river. This was a majestic sight not to be missed. A friend's husband was the chef aboard the original "Pride" so I know a lot about the vessel and her mission. – Look at the additional pictures and you'll understand my awe.
Another sight is the ever present power plant on the NJ side of the river. You see it forever and ever…and ever. Finally we enter the Cape May Canal and see the large ferry that travels across to the Delaware shore line. We tie up at Utsches marina, waiting for a second Kadey Krogen to arrive so we can buddy boat together up the ocean to NYC.
As Murphy rules, the second boat was delayed and the weather worsened making their trip in the dark an exciting journey. They finally arrived around 9PM so we helped them tie up for the evening, using our q-beam to show them the way.
We awaken to picture postcard weather after the storm blew itself out, count our blessings and head out to sea. Nice weather but we are in the ocean where there's a constant swell so of course both boats are using stabilizers. Since we are a bit ahead of schedule we decide to make port in Manasquan, NJ to visit the owner's friends. While in port we had a great dinner with a couple who cruise aboard a Grand Banks 49.
Manasquan is the northern end of the ICW inland waterway and a tricky inlet. As soon as you get inside the inlet you have to stop because of the fast tidal currents and a railroad bridge, especially if there is an Amtrak Train bringing commuters home from NYC. After a great evening's visit, both Krogens head out to sea and aim for NYC. The harbor was very busy with commercial traffic, ships, tugs, barges and ferries. This felt like playing dodge ball in grade school.
Now Murphy gets us good. We arrive at "The Battery" in NYC a little early for slack tide to enter the East River so we cruise up the Hudson River to sight see while we wait for the tide to relax. We timed everything perfectly and as we turn into the East River we are greeted by the US Coast Guard stopping marine traffic for – are you ready for this?- a swimmers race across the East River! Naturally they waited for slack tide so they could swim easily across the river. We had a similar plan but Murphy had something else in store for us. This pushed back our schedule for the night's marina stop by a few hours. Our buddy boat was lucky and was able to continue on while we did circles along with commercial and pleasure craft of all sizes.
Finally we were allowed to continue on through the East River and Hell's Gate, past the United States Merchant Marine Academy at Kings Point where we telephoned our nephew Christopher (KP08), off playing soccer against Coast Guard this time. Go KP!
We push on as darkness is a few hours away, passing Execution Rocks Lighthouse for the second time in 1 week and enter Long Island Sound. Remember Murphy visited us already, so we continue onto Port Jefferson Bay hoping to anchor. We entered on a very dark moonless night and the anchorage was full. Plan B is to head to the city dock next to the Ferry Terminal. This is a fixed dock with an 8 foot tide so we had a lot of fun tying up for the evening and of course setting an alarm to check lines every few hours during the night. We didn't have trouble sleeping next to the busy ferry terminal, we were tired.
More fun awaits us. We wake up and head to Mystic Seaport, CT. We are still ahead of schedule so another visit to a friend is in order. We tie up and have the "head boat" visit us for a pumpout, secure the boat for the evening and ride off with a friend to see the local landscape in CT and RI. We had dinner in his old cottage then back to the boat for sack time.
Another day and we wake to a blanket of good old New England FOG. We watch an old schooner slowly drift out the harbor and disappear into the mist. We wait and wait. I feel we are being smart to wait for better visibility before heading out. Finally the fog lifts and a light rain appears.
We cast off and head direct to Newport, RI. We had hoped to spend an extra day at Block Island but the weather was not cooperating with us. By afternoon we approach Newport and see an anchored Cruise ship using bright orange lifeboats to shuttle passengers ashore. We ease around them and enter the harbor, heading towards our assigned slip for the boat show.
This was another great training trip. All systems worked fine, the weather was predictable and the owner became much more confident in her already fine piloting skills.