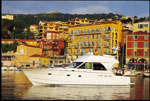 Vessel Type/Length – Antares13.8 (45ft, Flybridge sedan motor yacht)
Cruising speed – 28knots
Engine type/ Horsepower – Twin Cummins 500 hp electronic control
New boat shakedown one week cruise from Charleston to Georgetown and back to Charleston.
Thursday evening we arrived in Charleston, SC City Marina to meet the new Antares. Awakened Friday morning to the sight of three large otters having breakfast on our floating pier, we stepped quietly off the swim platform so as not to disturb their meal. Only two of the critters were frightened, sliding back into the muddy waters. The third was obviously more interested in the fresh crabs in front of him than two sleepy humans.
Since this is a brand new vessel we spent the first day reviewing systems and then set out to purchase spare parts and other necessary household items to make staying aboard more comfortable.
On day two we met the new owner and his buddy who will accompany us on the 4 hour trip. The morning started with dockside training, allowing him to become familiar with his new vessel. At 2p.m. we cast off lines and set out on our shakedown cruise. Crossing Charleston Harbor at 28 knots we had time to peek out in the Atlantic Ocean and determine an acceptable sea state. It's a GO! Winds were 10-15kts out of the Southeast making for a comfortable ride to Georgetown, SC. Our Autopilot GPS was set for the sea bouy at the Winyah Bay entrance but paper charts were close at hand, just in case.
Keeping watch, we spotted numerous dolphins, turtles and wahoo but the biggest "fish" was a Kenmore Refrigerator bobbing up and under the 2-3 foot waves. You never know what you'll see underway so a continuous lookout is wise.
From the Winyah Bay sea buoy to the dock at Georgetown is a lot further than you might think. Upon arrival at the dock we were met by a terrific welcome party…Fourteen family members who were anxious for a ride on the new boat! The little ones brought their own life jackets and off we went! A FAST hop up the Intracoastal Waterway and we dropped anchor near Butler Island so the kids could go for a swim. The adults relaxed with a chilled glass of wine and some yummy hors d'hourves. This is what boating is all about.
The next few days were spent on short day trips, including a cruise up the Waccamaw River past the Cypress Swamps and plentiful golf courses. One trip included a stop at Bucksport to pick up a few packages of their famous fresh sausage, the leanest you'll ever find.
Our return to Charleston was on the inside route taking the ICW for it's protection from the 25kt Southwest winds. After our arrival we gave her a bath, made a few notes for the new owners and headed back to our own vessel currently at port in Florida.