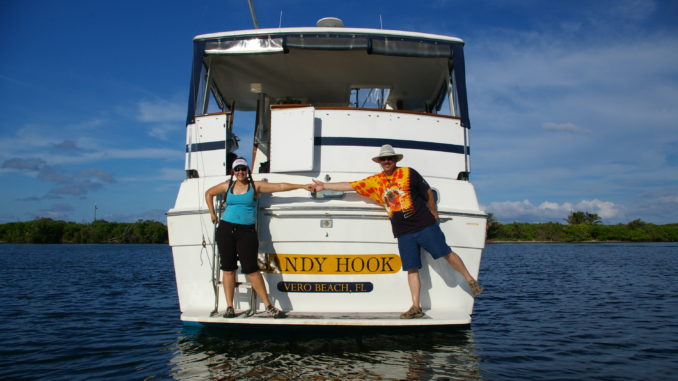 What a pleasure and adventure working with this passionate couple during our Trawler Training cruise! We welcome John & Tricia aboard to a sumptuous steak dinner on the aft deck. This bright and eager couple have really done their homework and come ready to learn. During our first evening together we exchange more questions and answers than many seasoned sailors can fathom.
(NOTE: We no longer charter our boat but are pleased to come aboard YOUR boat anywhere for personal training with you and your mate)
Don't forget to scroll down and click on all the photos. Avid readers with a dedicated interest in Astronomy, John & Tricia have done much research that they would like to put into action for the next two days. They experience true cruiser camaraderie as local boat owners Malcolm & Jane drop by for an after dinner chat. You can never talk enough about boats! Better say good night so we can prepare for our morning of navigation, charting and cruise planning.
When Chris greeted our guests on the dock the first evening Tricia was already jotting down ideas in her own notebook. Included in our lesson plan is the log sheet and Tricia continues to take the lead on data collection early each morning. There is so much to learn in the next two days and they aren't going to miss a moment. Breakfast is quickly followed with vessel systems review. We check all fluid levels before starting the two main diesels and cast off on our adventure.
It's one thing to read about a Range Marker, quite another to actually steer your vessel to line up for the deepest water. Time to test the theory so we head toward Fort Pierce Inlet and put words into action. What do you know? It works! We line up the two range markers then spin Sandy Hook around to head south in the Intracoastal waterway or ICW as we call this protected inland course. We pass near the North bridge to review drawbridge opening request procedures via VHF Radio then turn South to run the ditch on our route to Peck Lake.
We have a steady ESE 10-15 knot wind that tries to push us to the western edge of the channel. Crabbing helps but it seems we have a snake following us. No, we are not trapping crustaceans or running from slithery creatures. Crabbing is a term used to describe cross steering, steering left into a wind that is pushing us over to the right and allowing us to actually go straight even though our bow is pointed left to compensate. And the snake refers to the curvy wake behind the boat representing each time we drifted right then had to steer hard left to get back into the channel. Hands on learning has never been this fun.
Approaching our anchorage we scout out the bottom conditions by using the depth sounder then lower the MAX anchor for the evening. The Max is a large fluke, all purpose anchor that's great on a muddy bottom. Now we can launch the dinghy and head to shore for a short walk across the barrier island to the surf of the Atlantic Ocean. We were here 2 weeks earlier and saw 5 sea turtle nests. They are still here and undisturbed with a few more added. Wonder when the hatchlings will race to the edge of the shoreline and swim into the ocean?
As the sun sets, it is our guests turn to be the teachers. They show us the night skies like we've never seen before. We learn a lot more about celestial objects such as stars, planets, comets, nebulae and galaxies. Because we are far enough away from civilization we can easily see more matter without the city glow. John & Tricia use a special Laser Pointer to define what we can see and point out some of the more elaborate constellations that we can not. We then share our Night Vision Device, allowing them to see the night sky in a truly different light. Traditionally we use the night monocular to watch the passing boat traffic in a dark ocean and spy critters walk on the shore line while at anchor. Tonight this is a wonderful education for all of us!
Breakfast comes early the next morning so we can continue the learning on our trip back to home port. Picking up an anchor chockablock with mud makes for a messy start but our hand signals are clear and concise. John & Tricia are getting the feel for this nautical world and work well together as a team. They share the helm and navigating tasks during our return cruise, practicing newly acquired skill sets as much as they can.
Back at our home marina we make time for docking practice. John is first at the helm before trading with Tricia for mate duty. Learning to tie lines and deploy them is just as important as learning boat handling and maneuvering. They continue to work in harmony as they become more familiar with bringing the boat into different slips, sometimes with the wind but sometimes working from a disadvantaged direction.
Before you know it our trawler training cruise is over and we are walking off the docks together.
Time to stop surfing the internet and get out on the water. Stop dreaming and start doing.