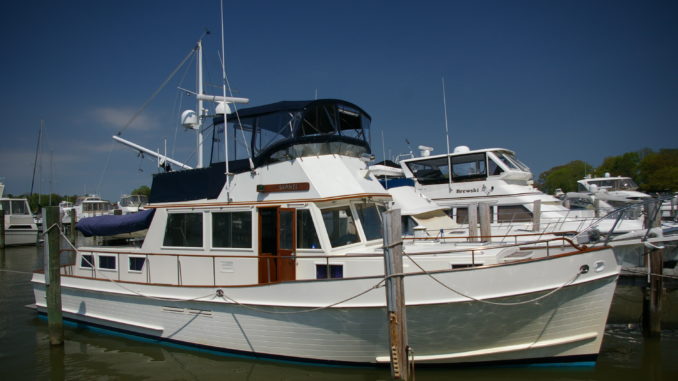 The Snowbird migration is in full swing and we have a Grand banks 46 Trawler to deliver home to the Chesapeake Bay. This annual boating ritual coincides with another related migration- The Loopers. The American Great Loop Cruisers Association is also headed north to their Spring Rendezvous in Myrtle Beach, SC. As a Lieutenant Sponsor we are proud to fly the Blue Burgee as we cruise north on this wonderful trawler.
This spring we have a lot of heavy winds which can put a damper on boating if you let it. Fortunately, the sun is shining and we can use the protection of the inside route in the Atlantic ICW.
We leave from Hollywood FL with morning winds holding steady at 30 knots. After some creative planning, we give the dock hand specific directions on how he can facilitate our leaving…safely! We consider wind direction, speed and gusts which are quite powerful. We can use wood pilings to pivot and we agree on which lines to remove in the right order. When you spend a few extra minutes thinking things through BEFORE you untie the lines then it often pays off quite nicely. And remember to talk it over, Captain and Mate, so you both agree on how to proceed.
The first leg of our trip keeps us at almost idle speeds from Hollywood to North Palm Beach. Because the ocean is just too rough for our comfort, we continue in the ditch and require 23 bridges to open for us…you read that correctly- TWENTY THREE!! We pass under 3 or 4 more that are tall enough to accommodate our 27 foot height, grateful that we do not have to drive in circles waiting for the traffic to clear and the bridge to lift. Next we head to Titusville and find ourselves back in the 15th century. Some time during the night two old world sailing ships have come into port and we learn they are the NINA and the PINTA. Where's Christopher Columbus?
The next day we are blessed with far less bridges but the blustery weather continues and we are taking seas over the flybridge…in the Indian River! The winds are incredible. Reaching north Florida the weather eases and we fuel up to run offshore from JAX Beach to Port Royal – Beaufort, SC. Finally! It's a beautiful day on the ocean. What starts as smooth sailing makes some subtle changes as the wind clocks around and increases speed once again. Before you know it we are surfing as we head into Port Royal Sound. Wallowing in the gullies, we struggle to maintain a heading. Pushing all that water doesn't help our fuel consumption and we burn far more than we hoped. It's a good thing we took on fuel back in JAX. Still, we manage to cruise what is the equivalent of 227 ICW miles by skipping Georgia altogether, running fairly straight in the ocean instead of the circuitous inside route. But it's back in the ICW for us tomorrow.
Tides are especially low this trip so we must wait for a rising tide in some locations and creep along in others. Our weather calms just in time to take the Neuse River up on the inside of the outer banks. This route saves a few miles and avoids many slow/no wake zones in the Alligator Pungo so we can really make up for lost miles. Cruising along without any glitches we take advantage of the longer days in spring and press on across the Albemarle Sound, dropping anchor in the lee just North of Camden Point. Two more days bring us through Norfolk then into the upper Chesapeake Bay. The Bay is kind to us with 1-2 foot seas and lots of sunshine, except for the three hours of dense fog. Radar sure is nice to have!
Eleven days after shoving off in Hollywood FL, we idle thru the "cut" into Fairlee Creek just north of Tolchester and Rock Hall, MD. Mear's Marina in Fairlee Creek is a wonderful place with many amenities and a great group of weekend boaters. Because it is inside of the cut you will not experience strong wind and currents that can make docking exciting….once you get into the cut. Don't try this narrow entrance when the tide is moving or at low tide unless you are sure you have enough water. It's like threading a needle without your bifocals, one of the most narrow inlets in the Chesapeake but certainly worth the trip.
Snug in our slip, we readjust lines and give this girl a well deserved bath, removing all the crusty sea salt, getting her prepared to see her owner in the morning. This GB is home for the summer season and ready for fun on the Bay!