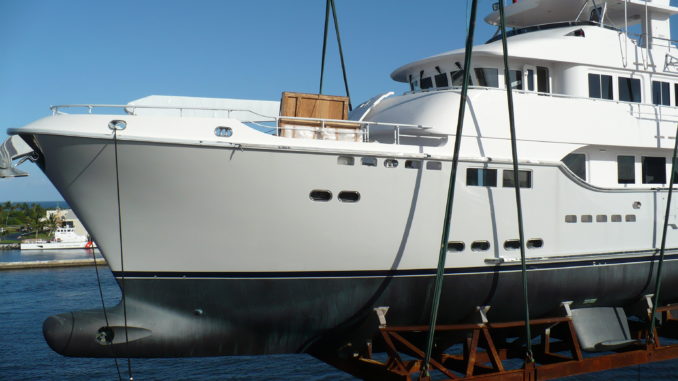 As we arrived at commercial pier number 25 in Port Everglades we count 6 yachts… and our Kadey Krogen is the smallest at 48 feet. We feel lucky that we are scheduled to be the second yacht and number one is all ready to be hoisted up and over the side. Unlike unloading a sack of potatoes, there is a real skill and plan needed to expertly launch a fine yacht from this grimy freighter. We are about to learn the one NEW hitch in our usual plan…
Typical of most offloads we must carry all our supplies up to the ship's deck, across the catwalk and up a ladder to the yacht. We take the usual care not to trip or slip on the numerous pipes, cleats and other protrusions typical of a freighter. Déjà vu! The skies are saturated and just dumped 2 inches of rain during our drive to the Port. But Neptune is kind and he keeps the wind calm and the seas friendly as we scan the ocean from the deck of the ship. We can plan an open water run back to Jensen Beach. Nice to avoid all the bridges of the ICW. 
There's a slight delay in the launch of first yacht and it seems to hang in mid air forever. Trying to see the cause of the holdup we crane our necks to no avail.  Peeling bubble wrap from our 48 foot Northsea helps to pass the time and before you know it she's hanging over the side of the ship…but wait a minute! We're not on her…you expect us to do WHAT??
A Jacob's ladder has been unfurled and we are directed by the ship's captain to climb down the side of the ship to our now-floating yacht waaaaaay below. Oh my! These photos do not capture the butterflies in my gut. Give me a rough storm anytime. I'd rather do anything else but climb DOWN a Jacob's ladder…AFTER scurrying over a railing like a rat just to reach the rope ladder. Hmmmph. The things we do for fun!
Vessel type/length – Kadey-Krogen Trawler 48
Engine type/horsepower – Single John Deere Diesel
Cruising speed – Economical 8 knots
Starting location – Ft. Lauderdale FL
Destination  – Jensen Beach FL