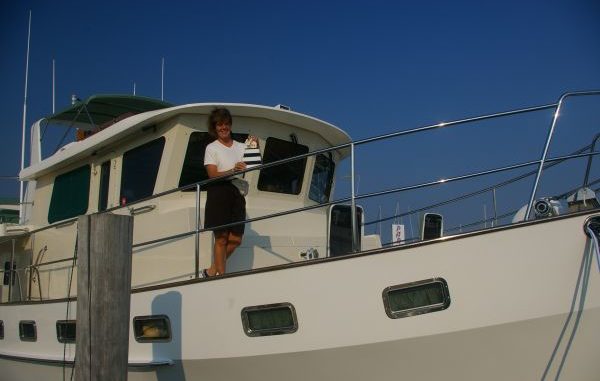 Vessel Type/Length – Kadey Krogen 48 Trawler
Cruising speed – 10 knots
Engine type/Horsepower – Single John Deere about 220 HP
A new trawler owner wanted more practice docking and anchoring her new boat as a single hander.
This excited new owner had just moved up from a 35foot Silverton with twin gas engines. She requested that I was not to help except to standby. We reviewed the boat size, windage, power, use of bow thruster and which way the boat "walks" when in reverse.
We then cast off, cruised into the St. Lucie River and returned to the same slip and backed the boat into "the hole". Very easy no problems so we did it again. After two effortless dockings we tried to entering other slips. We did longer and wider slips, shorter and more narrow slips, side to landings to simulate a fuel dock and pump out landing. The owner was doing so well after 15 dockings we decided to start anchor practice.
Heading out into the river we selected an anchor spot and drove in figure 8s to read the bottom depths. Then we ran downwind to turn and approach into the wind / current to drop the hook, lay out the chain and then tug a bit to set the hook. This was too easy so we hauled the anchor and did it again.
Again an easy anchoring so we decided to practice launching the dinghy with the wind blowing about 12 knots. This wasn't difficult but the wind started gusting so there was a level of excitement. No problems so we did it twice.
Returning to the dock for the last time, we debriefed. Our debriefing included a review of all actions, plans and results- good or bad! It's helpful to get feedback to reinforce the right way and make corrections for next time around. We also spent some time in the engine room reviewing fuel filter changes, sea water strainer cleaning and shower sump maintenance.
A very good day on the water, no problems and a lot of dockings prepared the owner for her trip North to the Chesapeake for the summer.
We've since reconnected with this owner at many different locations along the waterways of the East coast. She's quite impressive at the helm!