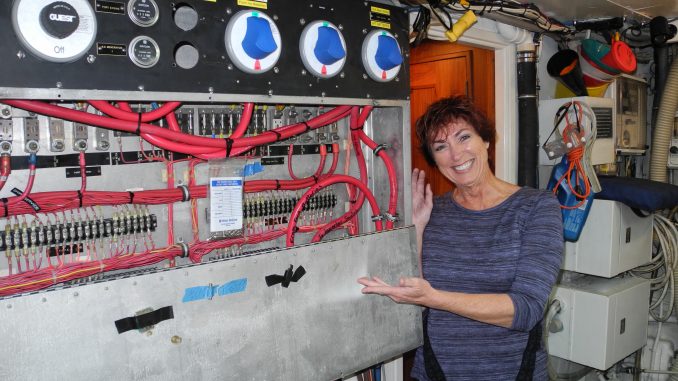 Look under the hood. That's what your Dad always said. If you have a problem, look under the hood to see what is not running right. Your engine room hatch is your boat's hood…figuratively speaking but the concept is an essential one and this concept translates well to boat owners too.
Knowledge is power. And, you have more power than you realize when it comes to discovering what's wrong with your boat or a boat you are considering for purchase. Know what you are looking at in all the below deck systems. Know what's wrong with your boat. Learn all you can to decide what is normal and when it may be time to call in a professional.
Experienced Boater or Newbie? Start With The Basics
Of course, you need a little experience before you know what is right and wrong. But many of you have never owned a cruising boat of a certain size before so where do you get the experience to know it? I'll repeat, knowledge is power. So if you did not grow up fixing things then a two-day Introduction to Boat Systems seminar should be in your future. And, even if you are a boater, you may now be in over your head with a system-intensive cruising boat that is in your future.
Fear not! We all started at the beginning. Some of us just have a little catching up to do in a shorter time frame. However, it can be done. You can learn to know what is wrong with your boat. Or, you can learn what to look for when buying your first cruising boat. It just takes a little determination and the right mentor who knows how to teach you. Throw in a little patience from that teacher and you are learning the basics….maybe even before you start looking for the perfect boat.
Poke around the photos here
The YELLOW rubber boot is a water proof cover for an inline glass fuse. Open it and check the fuse to see if it is OK. The Coaxial Cable is for the TV system and the multiple YELLOW wires are secured to a bus block distribution system. YELLOW is the new BLACK for negative DC wires on boats. Still with me?
The BLACK squarish device is a water proof boot for the newer modern BLADE fuses like you have in your car.
Hydraulic steering system may appear confusing but look closer at the black housing. See the S and P for Starboard  and Port steering. The Brass hose fitting is marked G for GREEN, rightfully connected to the STARBOARD connection. The clear nylon reinforced hose at top is the hydraulic system hose to fill or refill the system if needed.
Know what's wrong with your boat…or the boat you think is your next perfect boat
Larger boats may have clear and easily understood electrical system seen in this stand up engine room. Of course you need to learn the systems aboard your boat BEFORE you buy it. Are the wires clean and straight forward or a birds nest of confusion?
Look under the hood. Not all boats have stand up engine rooms while others may have a hinged helm station that is accessed by lifting and then studying the wiring, looking for any issues or concerns.
Learn more BEFORE you buy a boat.
We are available as consultants before, during and after you buy the Perfect Boat. Online, Face Time, Zoom and in-person services available.  Ask Captain Chris. 772-205-1859